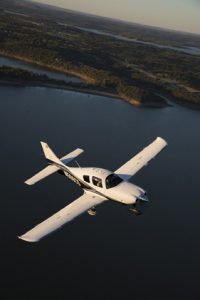 Textron Aviation Inc., a Textron Inc. (NYSE:TXT) company, announced at the Experimental Aircraft Association (EAA) AirVenture that all Cessna and Beechcraft piston aircraft customers purchasing new aircraft can now receive factory-direct training from a team of experienced instructor pilots specializing in the company's piston product line.
"This unique training program demonstrates our commitment to the overall ownership experience and provides the most comprehensive and effective model-specific flight training offering for Beechcraft and Cessna piston pilots," said Doug May, vice president, Piston Aircraft. "Pilots appreciate the professionalism and in-depth knowledge that our industry-leading experts provide."
The program focuses on transitioning customers into their new aircraft through model-specific ground, simulator and flight training. Various courses are available and range in length from three to five days, depending on aircraft type. Training is conducted on the company's east campus in Wichita, Kansas in a newly renovated facility housing classroom space and simulators, with direct access to Beech Field.
"This program is another example of our investment strategy at work," said May. "Our focus is on product development and offering customers value-added services that are unmatched in the industry."