Dedicated to owners of Cessna aircraft and their quest for information on specific models, training, modifications, and up-to-date-news concerning both specific aircraft and aviation in general.
Benefits include:
Cessna Owner Magazine (published monthly)
Member Only Forum (show, tell and learn more about your favorite model)
Technical Support (phone, email and forum)
Digital back issues
E-newsletter updates and more!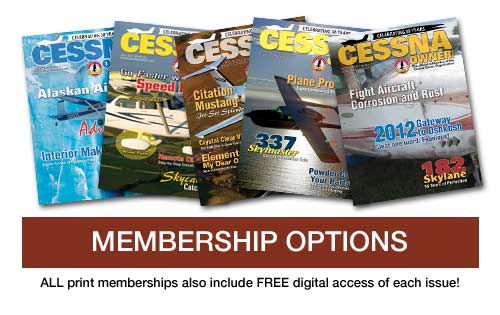 Add $23 per year to ship to Canada and $35 per year to ship to all other non-U.S. locations.
Please allow 6 to 8 weeks for delivery of your first issue.
Includes Print & Digital Magazines plus all Member Benefits
Includes Digital Magazines plus all Member Benefits
To order by phone or speak with a customer service representative, please contact:
Member Services – 1-888-692-3776
Or email MemberServices@cessnaowner.org
Cessna Owner Organization – PO Box 8551, Big Sandy, TX 75755-9766