Family of factory-rebuilt FAA STC'd belt-drive alternators designed to deliver abundant electrical power output for a broad array o f piston engine aircraft.
Hartzell Engine Technologies' president Mike Disbrow announced that the company is re-introducing its Plane-Power ALT-FLX line of FAA-PMA certified, 28V/150 Amp to 14V/100 Amp high output, belt-driven alternators.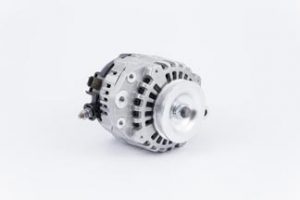 "The Plane-Power ALT-FLX belt-driven alternators deliver more continuous power at lower engine RPMs than any other aircraft alternator," Disbrow said. "Aircraft owners with high electrical demand during ground operations; such as those with sophisticated avionics suites or electrically-driven air conditioning systems, will appreciate the abundant electrical power they will get at idle with these Plane-Power alternators."
"Because of their outstanding performance, value and installation flexibility, the Plane-Power ALT-FLX series of high output belt-driven alternators was very popular with customers," he said. "Unfortunately, as with some other Plane-Power products, we encountered component sourcing issues that needed to be resolved before we could again meet market demands with new products."
"In the interim, our solution is to offer factory-rebuilt units until the new component suppliers can be brought on line," Disbrow added. "There will be some internal components that, while not new, will be inspected, tested and certified to meet new standards and they will be covered by the same 24-month warranty we provide on every new Plane-Power alternator."
Disbrow also said that because of the installation flexibility designed into the ALT-FLX series, Plane-Power will now be offering a variety of "installation-specific" kits with all the necessary hardware included for a specific aircraft/engine application covered by FAA STC SA11137SC. "Previously, Plane-Power had sold installation-specific equipment, such as mounting kits and voltage regulators a la carte," Disbrow explained. "Now it all comes together."
"No matter what type engine the aircraft has or the legacy Chrysler, Delco, Ford or Prestolite alternator or generator that is being replaced, Plane-Power will now have a pre-assembled kit that will greatly reduce the installation time on that engine," he said. "It is part of our ongoing commitment to ensuring our customers get the best possible experience from our products."
About the Plane-Power ALT-FLX FAA-PMA certified belt-driven alternators:
Available for Continental and Lycoming boss mount and Lycoming case mount systems.
Low cut-in speed, high output performance at idle.
Dual cooling fans ensure effecting cooling and unmatched durability even in low engine RPM/high output installations.
FAA STC and PMA approved.
Available in nine (9) different pre-packaged hardware kits to simplify installation.
About Hartzell Engine Technologies LLC. – Hartzell Engine Technologies LLC, along with its sister company, Hartzell Propeller Inc., form the general aviation business unit of Tailwind Technologies Inc., a growing aerospace technology company. Hartzell Engine Technologies is the leading OEM supplier of aircraft cabin heating solutions and engine accessories, including turbocharging systems, aircraft alternators, starters and fuel pumps. These product lines are produced under the Hartzell, Sky-Tec, Plane-Power and Janitrol Aero brands. For further information about Hartzell Engine Technologies and its products please visit: www.Hartzell.aero.