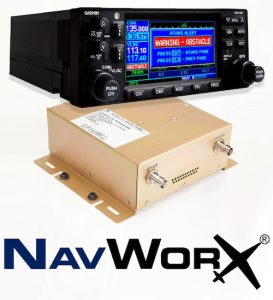 NavWorx, Inc. announced the company has entered a licensing agreement with Garmin enabling connectivity to the company's GNS and GTN line of navigators. Under the agreement, NavWorx' ADS600-B will interface with existing certified position sources providing the required WAAS GPS to meet the FAA's mandate for ADS-B equipage.
NavWorx has since its inception been providing ADS-B technology solutions to meet the diverse needs of aircraft owners and operators. NavWorx offers equipment designed to operate within the parameters of the FAA mandate for ADS-B. The company recognizes that utilizing existing equipment provides an affordable path to a certified ADS-B Out solution. For many aircraft owners this includes existing installations of Garmin GNS and GTN navigators. Through the licensing agreement, NavWorx is able to offer ADS-B compliance solutions for these existing installations at an attractive price.
For aircraft operators with Garmin GNS and GTN navigators, the installation of NavWorx' ADS600-B requires only a wiring connection to the aircraft. The ADS600-B is a remote mounted Universal Access Transceiver (UAT), providing 2020 compliant ADS-B Out (transmit) and ADS-B In (receive) for installation in certified aircraft. The ADS600-B utilizes the navigator's existing WAAS GPS and antenna offering a significant cost savings. Less equipment to purchase and lower installation costs all contribute to the savings. The ADS600-B is priced from $1,999.
Garmin's GNS and GTN display systems are installed in many certified aircraft. With more than 100,000 produced, there's a sizeable installed base. However, in 2011/12 Garmin ceased production of the GNS line, namely the GNS 430W and GNS 530W. The GNS 430 and 530 models without the "W" designation do not carry an approved GPS position source, although they are upgradeable and the company continues to support the platform. Garmin's GTN navigators, including 650/750 models, replaced the GNS line and include WAAS GPS.
While much has been written about meeting the FAA's 2020 mandate, aircraft owners remain confused about the availability of solutions that minimize the cost of installation. NavWorx can assist with finding a 2020 compliant ADS-B solution for any aircraft. The company offers UAT receivers/transceivers, Wi-Fi connectivity, transponder connectivity, plus TSO and experimental solutions for a range of aircraft applications.
For more information, call 1-888-628-9679 or visit www.navworx.com.