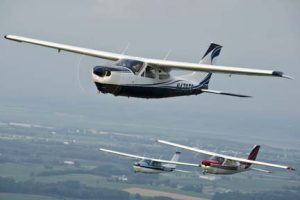 Daytona Beach, FL – Power Flow Systems reports that it has now shipped 200 of its high performance tuned exhaust systems for installation on the Cessna 177RG airframe.
Originally, the company had no plans to develop an STC'd version of their performance enhancing system for the Cardinal aircraft.  According to Mr. Darren Tilman, Power Flow's General Manager: "It was only after repeated requests from the well-respected (and very persuasive) Cardinal Flyer's On-line Owner's Group that we relented and initiated the development program."
Since the STC was approved, nearly 25% of the entire U.S. fleet of Cardinal RG's have been upgraded to the new system.   A significant number of 177RG aircraft being operated overseas in such exotic locations as South Africa, Belgium and Uruguay are also benefitting from the performance improvements which the system upgrade provides.
Power Flow's tuned exhaust systems have been proven to have a dramatic impact on the efficiency of an engine, bringing it close to its full rated horsepower and saving on fuel burn. In replacing the original exhaust pipes, the Power Flow system can increase rpm, rate of climb and improve engine cooling.  For aircraft like the 177RG that are equipped with constant speed propellers, there is also an increase of five to seven knots in the aircraft's cruise speed.
For further information visit PowerFlowSystems.com.