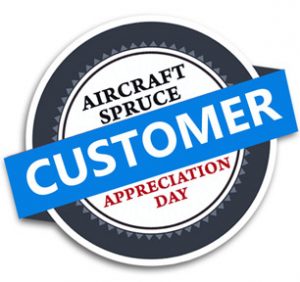 Aircraft Spruce West will host its annual Customer Appreciation Day on Saturday, Oct. 8th from 7am-3pm. Aircraft Spruce West is located at 225 Airport Circle in Corona, close to the Corona Airport (KAJO).
We will be having a guest appearance by Aerobatic Pilot, Anthony Oshinuga. Representatives from a number of leading aviation products (including a range of avionics items) will be on hand to demonstrate and discuss the benefits of their products. These representatives will include Bose, Champion, Concorde Battery, Garmin, Gill, Lightspeed, Pilot USA, Scheyden, Sennheiser, Tempest, and more.
During this one-day event, an assortment of popular aviation products will be specially priced to provide additional savings to those who visit the facility. Numerous promotions will be offered to the event attendees, including a free Tempest oil filter with the purchase of a case of oil.
There will be an hourly raffle with a number of raffle prizes including a Bose Soundlink Mini, Tempest Polos, ICOM radios, Yaesu radios and much more! EAA Chapter 1 will be selling the raffle tickets to benefit the Young Eagles Program.
A free shuttle service from the Corona airport to Aircraft Spruce will be available for all attendees flying into the airport for the event. As in the past, Aircraft Spruce will provide free hot dogs and beverages to the attendees.
For detailed information including promotions and activities/seminars scheduled for this day, please visit www.aircraftspruce.com
Aircraft Spruce's complete product line is available at www.aircraftspruce.com. Request your complimentary copy of the company's free 1100+ page catalog (available in print, CD, or PDF formats).