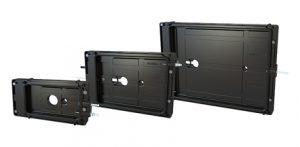 Guardian Avionics, announces the addition of new flush panel mount models for the Apple iPad Air / iPad Pro (9.7") model and the Apple iPhone 6+ to the new iFDR Panel Mount line unveiled in April. The iFDR line already includes mounts for the Apple iPad Pro (12.9"), the Apple iPad Mini, and the Apple iPhone 6. With the addition of the two new mounts to the line, Guardian Avionics has a flush mounting solution for every current iPad and iPhone product on the market.
Since introduction at the Sun 'n Fun International Fly-In and Expo in April, the iFDR Panel Mounts have been well received by pilots, owners, and builders of both experimental and certified aircraft. The panel mounts create a clean position for the iPhone or iPad in the instrument panel, allowing the tablets and phones to be docked and removed in just seconds – with connection to power, data, and audio integrated right into the mount.
"We listened to pilots over the past few months and found that every iPad and iPhone model has a purpose and place in the cockpit" said Ash Vij, President of Guardian Avionics. "We now have a panel mount to fit every size panel and every need from the iPhone 6 all the way up to the massive 12.9" display iPad Pro model."
Designed specifically for General Aviation engineers at Guardian Avionics, iFDR Panel Mounts are constructed of ABS plastic for long-term durability and resistance to temperature fluctuations. Each mount features a spring-loaded receiver for the iPad or iPhone that allow it to hold securely in the mount and absorb the vibrations in flight while allowing the iPad or iPhone to be docked and removed in seconds.
Each model has port positions for the Apple MFi Certified Lightning cable and 3.5mm audio cable (cables sold separately) to allow inflight power as well as connectivity to external GPS, engine management, and audio products installed in the aircraft. Each unit features cooling channels in the mount and a 5/8" hose port to connect the unit to a standard avionics fan, preventing over-temperature shutdowns of connected iPads and iPhones – a condition that's even more important as the hot summer flying season approaches.
"We are excited to see how aircraft owners and builders integrate the iFDR panel mounts into their cockpit over the coming year." Vij continued. "With the growing importance of the iPad and iPhone as a tool in the cockpit, these mounts are just the beginning of bringing tablets and phones off the kneeboard and yoke and giving them a permanent home in the instrument panel."
For more information, please visit www.GuardianAvionics.com or call 520-889-1177.