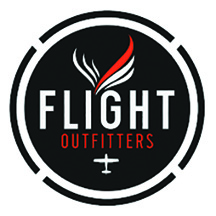 Flight Outfitters is excited to announce the release of their Pilot Flashlight and Pilot Survival Knife. Paired with the already very successful Pilot Head Lamp, Flight Outfitters now offers a comprehensive line of accessories that upholds the company's key principles: products are rugged, easy to use, and designed for real pilots.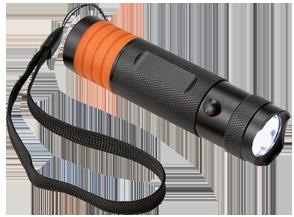 The Pilot Flashlight is designed for one-handed use with two easily accessible push buttons – one for white LED light and one for red LED light. For those inevitable times when a pilot holds their flashlight with their mouth for "hands-free" use, the Pilot Flashlight also has an innovative soft "bite ring" in Flight Outfitters' signature orange color. Rounding out the Pilot Flashlight is a wrist-strap to keep the light close at hand.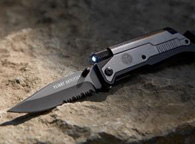 The Pilot Survival Knife is more than just a blade. This knife was designed to be the perfect side-kick accessory for pilots. In addition to the two-in-one blade design, there is a built-in LED flashlight on the top of the knife. The handle also features a seatbelt cutter, a glass breaker tool, and a clip to secure the knife on a belt or bag. All of these features are neatly contained within the rugged yet attractive grey and black handle.
The Pilot Flashlight (retail price $29.95) and the Pilot Survival Knife (retail price $29.95) will be available August 1st at leading aviation retailers. For more information, or to find a Flight Outfitters dealer, please visit www.FlightOutfitters.com.