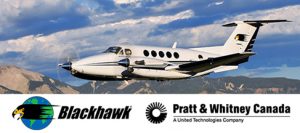 Through May 31, 2016, aircraft owners and operators who purchase a Blackhawk XP New Engine Upgrade for the Beechcraft King Air 200 or 90 series, Cessna Caravan, Cessna Conquest I, or Piper Cheyenne series aircraft will receive up to a $65,000 rebate from Pratt & Whitney Canada.
The installation of the new engines can be delayed through the end of July which allows more time to schedule the upgrade along with other maintenance items to reduce downtime. Details of the New Engine Rebate program and specific amounts by engine model can be found at www.blackhawk.aero/pwc-rebate.
Aside from the substantial performance boost new and more powerful engines deliver, another advantage of the New Engine Rebate program is a relaxed core engine exchange condition. There are no extra charges for corrosion, sulphidation, expired life limited parts, non-genuine P&WC parts, FOD or missing logs. Any core engine will be accepted as long as it was not removed for unscheduled reasons. Resetting the engine logs back to zero time and cycles will restart the pedigree of your engines which increases resale value and peace of mind.
"In the conversations I have with aircraft owners, it's not a question of if but when will they decide to upgrade with Blackhawk's XP New Engine program. The Pratt & Whitney New Engine Rebate has opened wide a window of opportunity to make the upgrade decision sooner," said Edwin Black, Senior Vice President of Sales and Marketing, Blackhawk Modifications. "With the reliability of new Pratt & Whitney PT6A engines coupled with Blackhawk and Pratt's dedication to the aftermarket upgrade community, it is easy to see why we have upgraded over 600 aircraft to date and continue to grow."
Blackhawk Modifications is a recognized leader in providing engine performance solutions to the turboprop fleet. The company has the largest installed fleet of STC approved turboprop engine upgrades and is the largest non-OEM buyer of new Pratt & Whitney turboprop engines in the world. Along with an aircraft sales/brokerage department, Blackhawk has a global network of approved dealers and service support centers. For more information, visit www.blackhawk.aero.