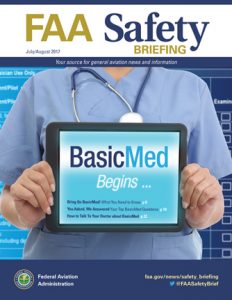 The July/August 2017 issue of FAA Safety Briefing explores several key facets of the new BasicMed rule, which offers pilots an alternative to the FAA's medical qualification process for third class medical certificates.
Under BasicMed, a pilot will be required to complete a medical education course every two years, undergo a medical examination every four years, and comply with aircraft and operating restrictions.
The feature article, Bring On BasicMed! – What The FAA's New Regulatory Relief Rule Means For You, appears on page 8. Other features include:
Doctor, Doctor, Let Me Give You the News – (p.16)
Your Top 20 BasicMed Questions – You Asked … We Answered (p.18)
How to Defeat Dehydration – A Forgotten Risk to Flight Safety (p.25)
National GA Award Honorees – Top 2017 General Aviation Professionals Announced (p.26)
FAA Safety Briefing is the safety policy voice for the non-commercial general aviation community. The magazine's objective is to improve safety by making the community aware of FAA resources, helping readers understand safety and regulatory issues, and encouraging continued training.
Follow us on Twitter–@FAASafetyBrief
Save
Save
Save
Save
Save