Six Pack Aero Gets FAA Approval for 172E to 172M
By Rocky Landsverk
Six Pack Aero, a two-person startup from Bellingham, Washington, has landed an STC to help owners of certain older Cessna 172 models upgrade their aircraft with modern avionics. The Legacy XL Stationary Panel Kit is a replacement stationary panel that offers a Cessna 172 panel upgrade solution to Cessna 172 E through M models that otherwise would be unable to fit 10-inch Primary Flight Displays or "six pack" layouts.
Lyle Jansma and Elizabeth Gibbs started working on the idea several years ago and have been working with the FAA for two years to acquire the STC for their replacement stationary panel kit. Six Pack Aero's STC starts with the 1964 172E model — which is what Gibbs called "the first model that is closest to a modern Cessna" — and carries through to the 1975 M Models, cutting off on serial number 17265484. Cessna made some modifications starting with the 1976 model year, creating enough room for the standard six-pack above the control yoke, making any modification to the stationary panel unnecessary on later models to fit a single 10-inch PFD.
For all photos in this article, click for a popup.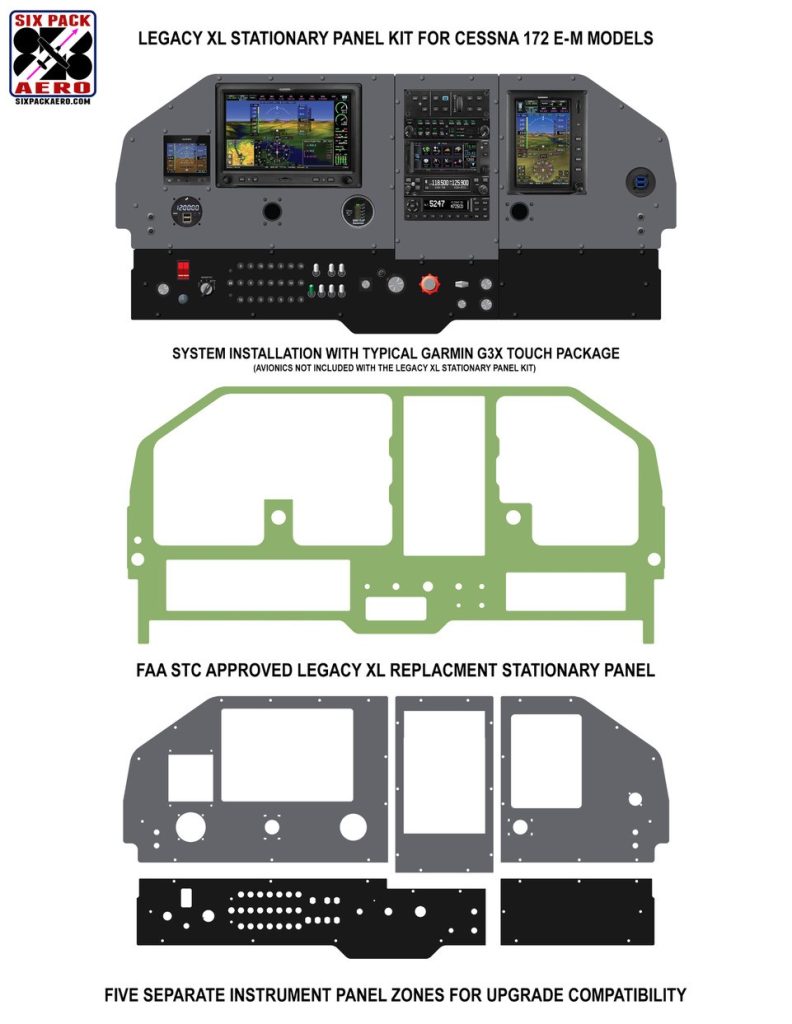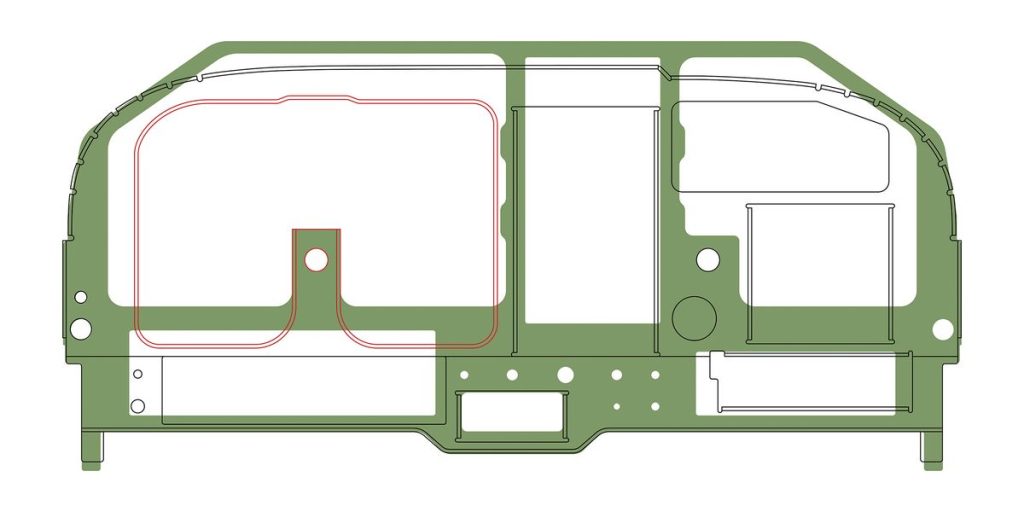 STC means Supplemental Type Certification and in layman's terms, it means that the product has been approved by the FAA so it can be installed in each model approved on the Approved Model List (AML), unlike an airframe-specific "field approval" that requires an FAA inspection.
The price for the Six Pack Aero Legacy XL Stationary Panel Kit will be in the $7,000 range plus the cost of installation by an avionics shop or A&P, with an estimated total install time of 40 hours. The STC includes the replacement stationary panel and five individual instrument cover panels, which come in three standardized configurations that are FAA approved, with some customization available.
Evolution of the Cessna 172 Panel Upgrade
Jansma was inspired to follow his aviation journey by his grandfather, who was an aircraft propeller mechanic in World War II. "He worked on Douglas A-20 Havocs in the South Pacific, and as a child, I'd sit on his lap, and he'd explain the inner workings of the Hamilton Hydromatic propeller. One of my most cherished photos of him is one where he is installing a propeller while standing of a 55-gallon drum while clothed in a set of baggy, jungle worn army fatigues."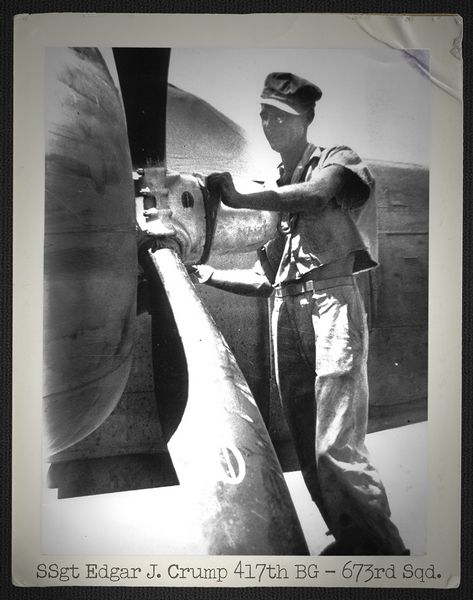 Despite a lifelong interest in aviation, Jansma did not initially pursue becoming a pilot until well into adulthood. Instead, he first made his mark in aviation as a photographer, doing work for the Heritage Flight Museum in Washington state. "My very first photo shoot ever was photographing a P-51 Mustang," he said. "Within a couple years of that, I had been published on the cover of Air and Space Magazine."
In 2009, he decided to pursue flying, until an unexpected hiccup in the process of getting a medical had him stepping back from flying. "If I couldn't fly, then I was going to focus on becoming the best aviation photographer that I could," he said. He made something of his time at the Heritage Flight Museum by introducing the world to ACI Cockpit 360 app, in which he took his photographic talents and created stunning 360 virtual photographs of the inside of the historical cockpits, allowing guests at museums all over the country to view what is otherwise unavailable to many.
Meanwhile, Gibbs worked at the Heritage Flight Museum, which also led to an interest in becoming a pilot. "When I got there, I couldn't tell one airplane from another," she said. Gibbs started out assisting Jansma with some photography work, which turned into a growing interest in aviation. By this time, Jansma had finally received his medical, and began to take flying lessons again, and the two went in as partners on N3872Q — or "Dorothy" as they call her, a 1971 Cessna 172L they planned to learn to fly in.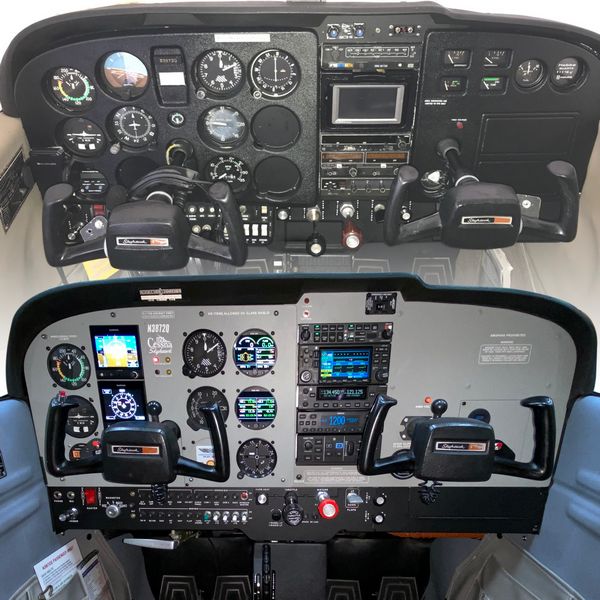 "This all began in 2015," Jansma said. "We had tried to restore a 1946 Taylorcraft BC-12D, but that was going nowhere, so we started to look for a Cessna 172. The airplane that we ended up buying was actually right here in our home airport in Bellingham (Washington). So by February 2018, we bought 3872Q, and at the time, Elizabeth had a few hours and I had about 16 hours.
"We picked it up for about $26,000 and we put about another $20,000 into getting it airworthy, because it sat for a couple of years. That was our introduction into owner-assisted annuals."
Command Aviation of Bellingham, Washington, is their home shop, and the lead mechanic on this project was A&P/IA Craig Scamehorn. He encouraged Jansma and Gibbs to work on their airplane themselves, at Command Aviation's direction. They started that process with an owner-assisted annual.
"We got our hands into areas of that airplane that hadn't been seen in a number of years," Jansma said. "We bought it in February and we had it back in the air in May, and we got into our flight training. Then about a month before our check ride, our vacuum system started going out."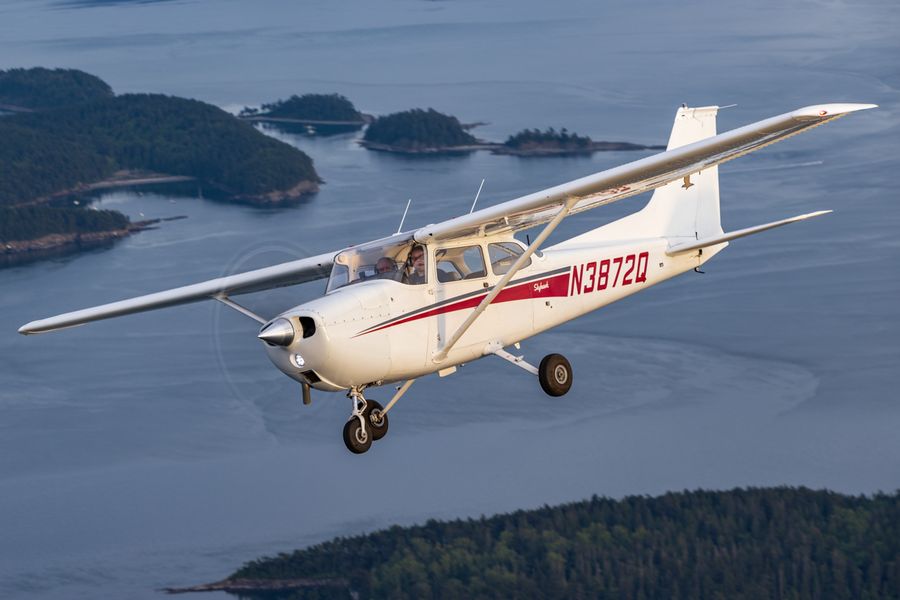 Jansma said they eventually learned about things like weak vacuum pumps and old gauges, and "that's when we decided we were going to buy the fancy G5s and have them flush-mounted." Originally, they had hoped to flush mount the G5s above the control yoke, but soon discovered that this was not possible due to space constraints in earlier models. They opted instead to keep them in the stock layout and get a new aluminum panel for a cleaner look. 
The rest of this article can be seen only by paid members who are logged in.
Have a website login already?
Log in and start reading now.
Never created a website login before?
Find your Customer Number (it's on your mailing label) and register here.
JOIN HERE
Still have questions?
Contact us here.