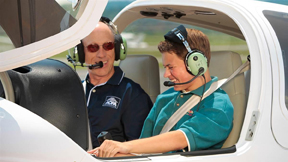 The Aircraft Owners and Pilots Association (AOPA) and Purdue University have announced a partnership to develop aviation-related science and math curricula for high schools across America. The program will be the first of its kind, offering students comprehensive four-year aviation study options that are aligned to rigorous math and science standards used in many states nationwide.
The High School Initiative is part of AOPA's You Can Fly program, which was created to bring more people into aviation. By educating high school students about aviation career opportunities, helping lapsed pilots return to flying, lowering barriers to entry, reducing the cost of flying, and building the aviation community, You Can Fly is helping people of all ages get involved with aviation.
"You Can Fly is making aviation more inviting and accessible to everyone," said Katie Pribyl, AOPA senior vice president of communications and head of the You Can Fly program. "Humans have always dreamed of flight. Now we're offering new ways for people to connect with that dream. For high school students, the curricula we're developing will offer a chance to explore the many fascinating aspects of aviation while making math and science more relevant and fun."
The curricula will incorporate grade-appropriate learning, building on the skills and knowledge developed in each grade level. To facilitate that process, ninth-grade classes for all four learning pathways will be rolled out first, with initial implementation anticipated in the 2018-19 school year.
Purdue University President Mitch Daniels said the partnership continues Purdue University's efforts in STEM (science, technology, engineering and math) education.
"The new curriculum program gives students an opportunity to further develop their math and science skills in order to bolster the future of the aviation industry and create new possibilities in transportation," Daniels said.
In addition to curriculum development, the AOPA High School Initiative is bringing educators together to share ideas and expertise when it comes to implementing aviation-based STEM education at their schools. More than 200 individuals from across the country are expected to take part in the second annual High School Aviation Symposium set for Nov. 6 and 7 in Seattle. Representatives from both AOPA and Purdue will speak about developing the curricula.
Symposium participants also will have the opportunity to discuss best practices for aviation-based STEM education and tour Raisbeck Aviation High School, a top aviation high school.
Anyone interested in attending should check the https://youcanfly.aopa.org/ website or email HS@aopa.org.
About AOPA – Since 1939, AOPA has protected the freedom to fly by creating an environment that gives people of all ages the opportunity to enjoy aviation and all it has to offer. As the world's largest community of pilots and aviation enthusiasts with representatives based in Frederick, Md., Washington, D.C., Wichita, Kans., and seven regions across the United States, AOPA's events, initiatives, and services bring current and future pilots together and make aviation more accessible to everyone. To learn more, visit www.aopa.org.