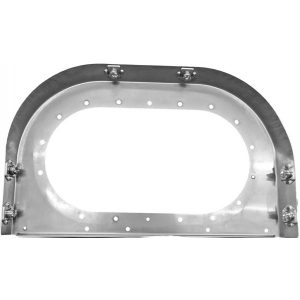 Adding to their growing list of FAA PMA approved parts available in support of the world's Cessna Caravan fleets, Airforms, Inc. has announced FAA PMA approval for part number AF2654006-10, the Caravan Primary Exhaust Flange.
The flange is a direct replacements for Cessna P/N 2654006-10, and has been engineered to reduce the incidence of cracking.  The flanges are eligible for installation on all Cessna model 208 and 208B aircraft with the -114 or the -114A engine, and are precision fit, drop-in replacements for the OEM components.
Airforms' Sales and Marketing Executive Steve Hunter explains, "We have been working with a number of Caravan fleet operators for some time, and they have requested numerous PMA programs for components that present challenges due to high OEM component costs, poor availability or short service life. Several operators had requested a PMA program for the Primary Exhaust Flange due to cracking issues and periodic availability problems with the OEM parts. We have responded with high-quality, economically-priced components that will provide long service life – even in the world's harshest environments.  These parts are on the shelf and are readily available immediately."
Airforms is the world's leading supplier of replacement engine baffles for a wide range of general aviation aircraft; products also include an expanding line of turboprop aircraft PMA parts, STCs, and hard to find source parts for fleet operators.  Airforms maintains an FAA-approved manufacturing system for PMA parts, supported by an engineering department with FAA DER staff engineers.
For more information, including a secure online marketplace and catalog, visit www.airforms.biz.