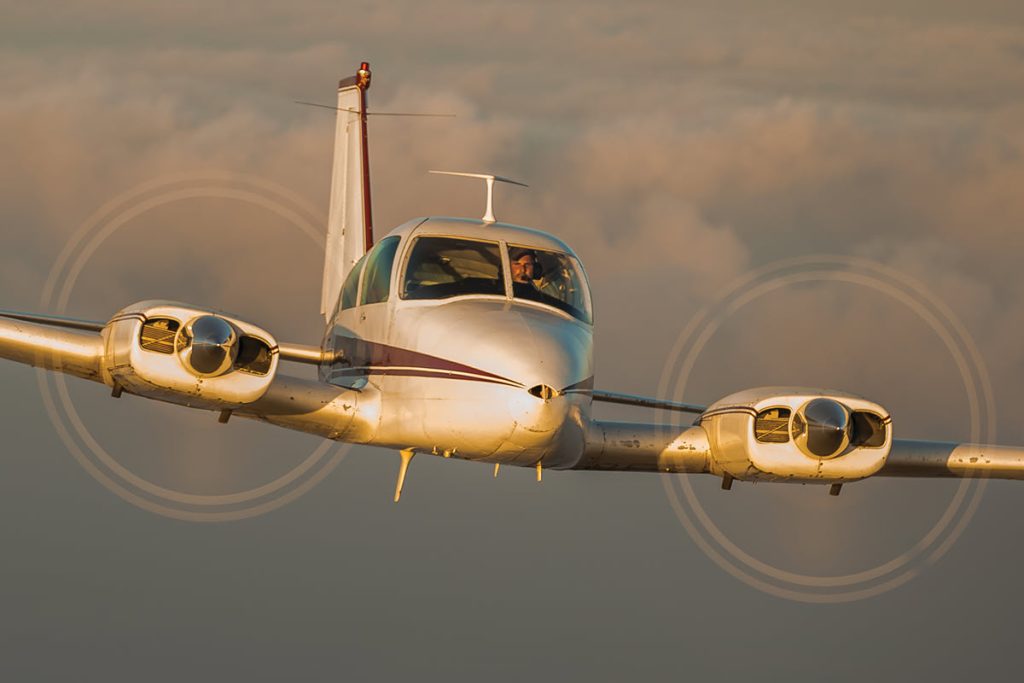 By Rocky Landsverk
When Dayton Dabbs counts his options, the one he con­siders first is his gyroplane. He likes flying with the doors off. He wishes that were always possible.
But sometimes you need to get there more quickly, and other times you want to take some friends or family with you. Enter the Cessna 310 that has now been in his family for the past year. Dabbs, who lives in Texas and works for Magni Gyro out of Italy
(www. magnigyro.it/en), has been flying gyros his entire flying career. He also owns a Mooney, but his most dependable method for getting to customers for his gyroplane business is his 310.
"I bought this plane a little over a year ago. I just wanted a multi engine to get around with," he said. "I like the idea of having a plane that could carry my sister or my brother's family. They each have two kids, so I like the idea of having a five- or six-seat airplane. This particular 310 is a five-seat airplane, a 1960F model.
"I was looking for a multi-engine airplane, and this was de­cently equipped at the right price. I wasn't necessarily set on a 310, but the more I've flown it, the more I've really enjoyed fly­ing this airplane."
Benefits of a Twin
Dabbs had his multi-engine license before buying this plane, having done some contract flying in an Astra Gulfstream G100. He likes the reliability and safety of the extra engine. "I like al­most everything about the 310," he said. "I don't like the fuel burn and I don't like the time from about 0 to 200 feet where you're worried about the Vmc rolls and all that sort of thing."
Running lean of peak and flying about 155 knots, Dabbs said his fuel burn is roughly 18 gallons per hour. "If I'm running it at about 180 knots, I'm getting closer to 24 gallons per hour," he said. "That's the price you pay for the reliability and the safety of having the extra engine."
Overall, he believes he's found good value, especially since he bought the plane at the start of the plane-value explosion but didn't pay today's prices. "I bought the plane for pennies on the dollar," he said. "The previous owner had it for 30 years and for the past 10 years, he had been flying it one hour a year and keep­ing it in annual every year.
"It sat in a heated hangar and was in good shape, but there were a lot of questions on what kind of condition, it could po­tentially be in. But the previous owner had really taken care of the airplane."
Dabbs said he got a good deal on the plane, but there is an adjustment when you're getting used to owning a 310 and you take it into the mechanic. "I've owned airplanes for about the past 12 years, including a gyroplane, and a Mooney for the past four years," he said. "And you know what goes into an annual for a 310, and taking care of two engines rather than one, but you still don't want to see the final number [of what twin-engine annuals cost]."
Overall, he's been very happy, and the plane is running great. Even though it's at time between overhauls (TBO), he plans to continue flying it without the overhaul. "I bought the airplane with the engines at 1,600 hours apiece, and 1,600 is TBO on these engines," he said. "It has two IO-470 engines. Right now, the engine is still making compression, and we're not making metal. I'm going to wait until one of those two comes up."
1960 Cessna 310 Specs
| | |
| --- | --- |
| Engines | 2 Cont. IO-470-D |
| Horsepower | 260 each engine |
| Fuel Capacity | 102 gallons |
| Min. Octane Fuel | 100 |
| Avg. Fuel Burn | 28 gallons |
| Standard Empty Weight | 3,125 lbs. |
| Max. Useful Load | 1,750 lbs. |
| Baggage Capacity | 200 lbs. |
| Length | 27 feet |
| Wingspan | 35 feet |
| Height | 10.3 feet |
| Maximum speed | 220 mph (190 knots) |
| Cruise speed | 205 mph (178 knots) |
| Service ceiling | 20,000 feet |
| Rate of climb | 1,700 feet/min. |
| Takeoff distance | 1,120 feet |
| Landing distance | 1,285 feet |
| Takeoff distance over 50-ft obstacle | 1,375 feet |
| Landing distance over 50-ft obstacle | 1,710 feet |
These are the specs for a factory 1960 Cessna 310 but every vintage airplane is now different; do not use these specs to plan a flight. Data taken from a variety of sources, including original manuals.
Upgrades So Far
One thing you'll notice in the pictures is the panel is not very new. Dabbs is fine with that, though it's taken some getting used to. He does have an S-TEC autopilot and a uAvionix tailBeacon for ADS-B Out (see photo, Page 14). "I've had quite a learning experience myself with this airplane," he said. "It was equipped with a King GPS, it's got two KX-155 radios, and the GPS is not a Wide Area Augmentation System (WAAS) GPS, so I'm not able to shoot localizer performance with vertical guidance (LPV) ap­proaches or anything like that. But it's rare where an airport is actually at LPV minimums, so I can usually shoot it to lateral navigation (LNAV) minimums and not have a problem at all."
Basically, this panel was new — in the 1990s. "The King ra­dio and GPS are newer," Dabbs said. "The previous owner did a pretty extensive panel upgrade, but it was with 1990s technol­ogy. It's not original, but it's not new."
Learning the 310
When he says he's had a "learning experience" with his 310, what does Dabbs mean?
"If you catch any sort of a turbulent day, the main fuel tanks are out there in what we call the tuna tanks on this plane. The wingtip tanks, those are your mains, and each one holds 50 gal­lons of fuel," he said. "If you take off with a full load of fuel in this plane, and I would imagine any 310, it has all kinds of sloshing back and forth. If it's a turbulent day, the wings will really rock.
"I'm also learning the older generation of avionics and how they couple with the autopilot. I have an S-TEC autopilot.
"When it came time for an oil change, I found myself look­ing for an oil filter, and there's no oil filter on these engines. They have oil screens, so that one kind of caught me by sur­prise. There's a supplemental type certificate (STC) to get an oil filter, but we don't have that. My mechanic says as long as we change the oil every 25 hours, and you're not having issues with it, there's no reason to change that.
"Our plane does have an STC for an underwing exhaust. Typi­cally, these 310s with the massive hole where the nacelle is, when they were built, the exhaust ran through the nacelle. With this STC, the exhausts actually go under the engine, and the reason for that is they have had issues with corrosion before going into the wing from that hot exhaust. So, our plane does have that STC."
Advice if You're Considering a 310
Especially with the unique perspective as the owner of a gy­roplane and a Mooney, what does Dabbs recommend to people considering a 310?
"It all depends on what their mission is and what their skill level is, and by no means do I think I'm the most skilled pilot in the world," he said. "The 310 is a wonderful machine. I've been very, very happy with it.
"It's relatively efficient. I know 24 gallons an hour doesn't sound very efficient, but really, for the reliability and the safety factor of having that extra engine, I like it.
"That being said, a light twin, if you lose an engine on takeoff, it can be the single most dangerous airplane you can be in, as well. You have to be prepared as a multi-engine pilot, and you have to brief yourself on the takeoff and the emergency proce­dures before every takeoff, because if you lose an engine below Vmc, then you will have some major issues."
Add it all up, and it's really about useful load. "We've found that 'if you can close the door on it, it'll haul it' is true," Dabbs said. "I've never loaded it to its limits. If your mission is to go somewhere within probably about 500 nautical miles on a regu­lar basis, it's a great airplane for that. Now a 210 will fly just about the same speed and can haul about as many people. But if you lose your engine in a 210 at altitude, you're coming down."
Dabbs also stressed that this plane is not a climber for certain situations, like the Rockies.
"It would also depend on the environment," he said. "Our 310 is not turbocharged. If you lost an engine, the single-engine ceiling is around 6,000 or 7,000 feet. There are turbo-charged 310s, but this is not an airplane that I would regularly fly in the mountains."
Growing Up a Pilot
Dabbs said his piloting experience goes back to Dad. "My dad grew up in Mississippi and he was always tinkering with dif­ferent toys and whatnot, and he got really interested in Benson gyrocopters that were shown in the back of Popular Mechan­ics magazine," Dabbs said. "He had bought all the plans for the Benson and bought the engine, and two weeks later, the guy who was talking about them with Dad crashed and died in that gyrocopter. So, my dad said, 'I'm not getting involved in this.'
"Well, the year I was born, 1985, my dad took up helicopter training and he became a pilot in the Robinson R22. So, I grew up flying in the Robinson with my dad, and I absolutely loved it. When I was 14, for Christmas, my parents made me a deal. They said if kept my grades up, they would buy me half an hour of flight training a month. That got me to where I soloed at 16 and got my rating at 17. When I was a senior in high school, I would work my job as a waiter, and one day would pay for one hour of flying in a Bellanca Decathlon."
Eventually his dad wandered back to gyroplanes and intro­duced Dabbs to Magni Gyro, which is the company Dabbs rep­resents today. He started flying in gyroplanes during college and built most of his time in them. "I fell in love with them," he said. "When I graduated college, I got my instructor rating in it, and I got my commercial rating in it. I built most of my hours in gyroplanes, teaching people to fly gyros."
Dabbs is now a gyroplane examiner, as well, and it was in gyros that he moved into multi-engine flying. For Magni Gyro, Dabbs works in training, sales, and maintenance with his com­pany, Lone Star Magni Gyro. He goes to Italy several times a year, at least he did before COVID-19 and should again soon.
Future Upgrades
Dabbs has no plans for any significant changes on the 310. As noted earlier, he's OK with the older avionics.
The interior could use an upgrade, and not just because it looks like a 60-year-old interior, but also because coincidentally, those orange/brown colors are very "University of Texas" and that doesn't sit well with this A&M grad.
"That is the one thing that I really debate changing in this airplane," Dabbs said. "I just can't get myself to pull the trigger. I'm not trying to impress anybody. But it's UT colors, and I feel like I've got to change it!"
Click on a photo to open a pop-up slideshow