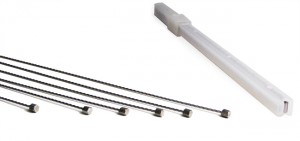 The Safety Cable Kit is now available at Aircraft Spruce! The Safety Cable Kit is a simple two-step procedure for the lock-wiring of fasteners.
Bergen Cable is FAA approved and listed in the US Government QPL-87215-4 as an approved manufacturer of "LOCKCLAD" cable assemblies used in critical flight control systems of Aircraft and similar high reliability equipment.
For more information, please contact Aircraft Spruce at 1-877-477-7823 or 951-372-9555, and reference part number 12-04569.
Aircraft Spruce's complete product line is available at www.aircraftspruce.com. Request your complimentary copy of the company's free 1000+ page catalog.