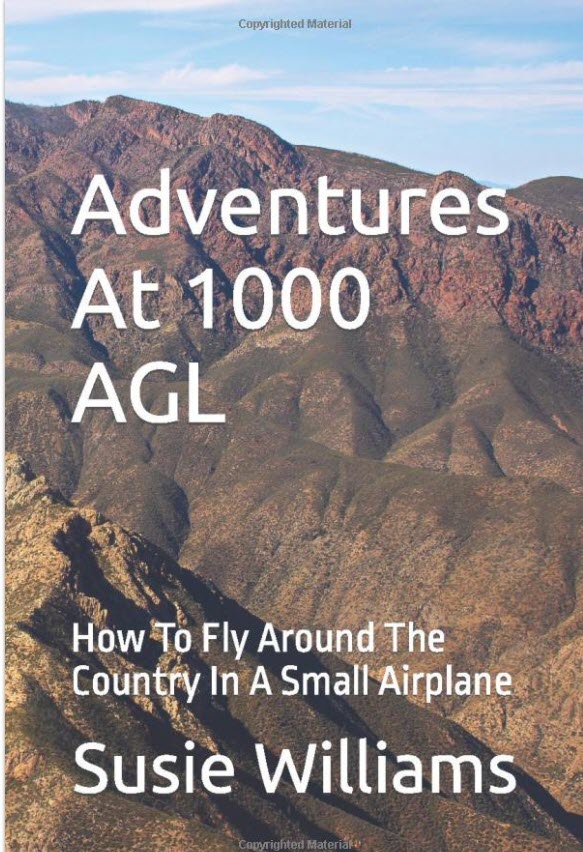 Susie Williams is a Silicon Valley software and technical writer veteran, and is a private pilot based in California. Her love of traveling coupled with her talents as a photographer and writer come together in her first published book.
Adventures at 1000 AGL – How To Fly Around The Country In A Small Airplane is part How-To manual and part inspiration for adventure-minded pilots and travelers. Practical advice about how to plan and execute your trip, from logistics to weather and diversions, is coupled with stories from the author's numerous trips afield. The author captures the essence of a way of traveling that few have experienced.
The book features stunning aerial photos of America's mountains, shores, and heartland. Armchair explorers, pilots, and anyone curious to see a different side of America will enjoy this glimpse into this exciting way of traveling. 
Read an Excerpt from Adventures at 1000 AGL here.
Quotes from Book:
"Don't think of the trip as a flight of a thousand miles; just think of it as a flight of a hundred miles, something you are comfortable with, but just repeat that short trip as many times as needed until you're there."
"Land at the last destination of the day no later than 3 PM, and preferably by 1 PM."
"Getting advice from locals who know the area is a real help."
"This story of a helpful FBO isn't rare. More often than not, friendly and helpful people staff these facilities and are generous with their time and their local knowledge."
"Learning how to read and interpret weather forecasts are keys to planning a cross-country trip, and learning how to react to changing, unforecasted conditions is even more crucial."
"Planning ahead by practicing your flying (and landing) skills, keeping hyper-aware of your surroundings, and having a bit of luck made the trip safer and more enjoyable."
Amazon Link for Kindle and Paperback