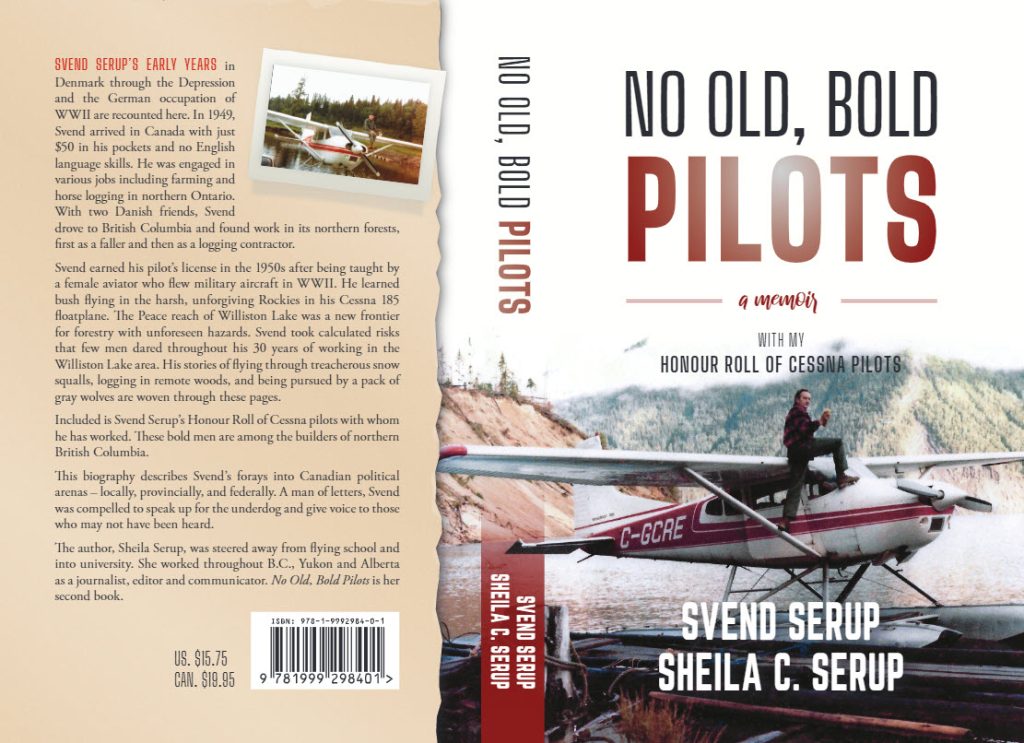 No Old, Bold Pilots, a Memoir with my Honour Roll of Cessna Pilots by Svend Serup and Sheila Serup (2nd Ed. 2021)
No Old, Bold Pilots, co-written by Svend Serup and Sheila Serup, is a biography of bush pilot, builder and community leader Svend Serup.  
Svend became enamored with flying during WWII after watching daily bombing raids passing over his home country of Denmark which was occupied by the Nazis. As a young boy he witnessed a great diversity of aircraft flying overhead, and developed a keen interest in their maneuverability, speed and power. After arriving in Canada in the 1950s, he leaped at the chance to learn to fly. Svend earned his pilot's license after being taught by a female aviator who flew military aircraft in WWII. He trained on three types of light aircraft: Flying Super-Cub, Luscombe, and Cessna 140.
He learned bush flying in the harsh, unforgiving Rockies in his Cessna A185F on cap floats. The Peace reach of Williston Lake was a new frontier for forestry with unforeseen hazards. Svend took calculated risks that few men dared during his 30 years of working in the Williston Lake area.
His stories of flying through treacherous snow squalls, logging in remote woods, and being pursued by a pack of gray wolves are woven through the pages of this book. Svend purchased his plane new in 1975 and flew it for 15 years through some of the most rugged terrain and violent weather conditions in BC.
Svend chose the Cessna 185, registration C-GCRE, for its reputation as a backcountry workhorse which purred like a kitten in the most extreme weather conditions. The six-seater Skywagon had a 300-HP piston engine, and its maximum takeoff weight was 1519 kilograms. The cap floats took a severe beating from waves and floating wood debris which littered Williston Lake. The Skywagon was introduced in 1961, bringing more power and a higher useful load. Although production ceased in 1985, its longevity could be seen decades later on Alaskan snowfields and northern BC lakes.
After selling in 1990, Cessna C-GCRE was purchased by Harbour Air in 1994. Based in Prince Rupert, it flew commercially between the mainland and Haida Gwaii up to 1997.
Svend includes in his book his Honour Roll of Cessna pilots he worked with over the years in the Prince George, Mackenzie and Peace Regions. These bold men are among the builders of northern BC.
The title of the book comes from a passage in which he describes an almost impossible, near fatal flight in which he was boxed in the ramparts of the Rockies.
"Forty miles of flying through the mountains in snow showers was not a pleasant thought. Now I was being battered again by turbulence. I could still feel the grip of the storm which at times shook the plane as a dog shakes a rag. On my right, I could see the valley and the Pine Pass over the Rockies which I needed to cross to reach Mackenzie. The narrowness of the valley was both impressive and chilling. How would I make a 180 degree turn if I had to turn back? Caution is the virtue which allows pilots to grow old. I quickly banked my plane steeply in a tight turn to retrace my route back to Hudson's Hope on the Peace River."
No Old, Bold Pilots is available for purchase ($15.75 US) by contacting the author at sheila.serup@gmail.com