Have you recently upgraded your Cessna? Send us your story!
Jai Pena started flying in the late 1980s with the intention of making it into a career, but then, as it often does, life got in the way.
"I flew for fun until about … 2000," Jai said. "Once my son was old enough to go racing go-karts and formula cars … flying was put to the side because racing took the time and budget I had for flying."
Jai left the aviation world for about 15 years until 2015 when he bought N64450 from a judge in Pennsylvania.
"I looked for years for a C-172, specifically for an M model due to their demand and their toughness," Jai said. "I knew the problems with the N models with the dual magnetos and I also knew the older … models were just too old and not very powerful; the S and XP models were too expensive and heavier, so I looked very hard for years for a low-time M model that would have at least one of these characteristics: great paint and interior, modern avionics, or one with a 180-hp engine conversion."
Ultimately, Jai chose a Skyhawk with a 180-hp engine conversion from Penn Yan Aero. When he bought it, the engine had only 500 hours on it.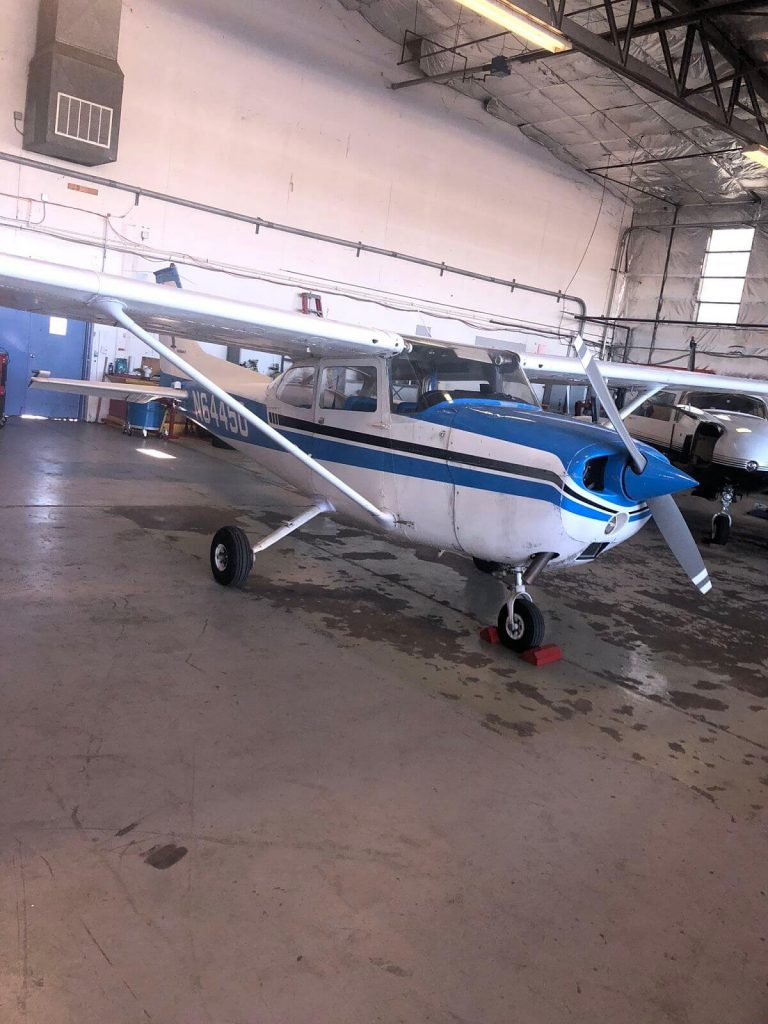 "Both the prop and the engine were overhauled," Jai said. "[The engine was converted] from an O-320 (150 hp) to the O-360 (180 hp) exactly at 2,000 hours."
The airframe had 2,500 hours on it and N64450 had only had two owners since it came off the assembly line in 1975, but Jai knew it was going to need some TLC.
"The airplane was in good flying condition, but very rough cosmetically and it definitely needed a paint job as it was peeling all over," Jai said. "The interior was also in rough shape as it was all original and most of the interior and exterior plastic was cracked and very brittle from age."
Jai said he had planned to fly the airplane throughout the process of restoration but soon came to realize that choosing one with an updated panel or fresh paint and a restored interior would have been the wiser choice.
"I learned during the restoration that the engine rebuild wasn't really the most expensive or difficult part; an engine swap is actually quick," he said. "It can be done in a week or two tops. The other restoration processes are more time consuming and costly. The cost of a paint job never turns out at the price you've estimated and the added cost of the small things you run into just nickels and dimes you to death. Same with avionics. Plus, the logistics of ferrying the plane from paint shop to avionics, etc. Interiors are also time-consuming. Custom scribing and molding pieces that add to the bill quickly. Same goes for the custom leather upholstery. All these processes turned out to be just as expensive as an engine rebuild, but they just take three to four times longer."
This article originally appeared in the February 2020 issue of Cessna Owner magazine.
Jai's first step in the restoration of 64450 was to have Dave Carter at West Side Aviation in Manassas, Virginia, review the mechanics of the airframe. He borescoped the engine; replaced the motor mounts, battery, flaps guides and bearings, hoses, tires, brakes, plugs, engine hoses; changed all the exterior plastic pieces; and installed new LED lights.
"From there I flew the plane to Warrenton to Skyworld Aviation where Jerry Lane and Ron Gatewood stripped the plane to the bare metal, looked for corrosion, which they luckily didn't find, and then they applied anti-corrosion primers and a few coats of heavy paint," Jai said.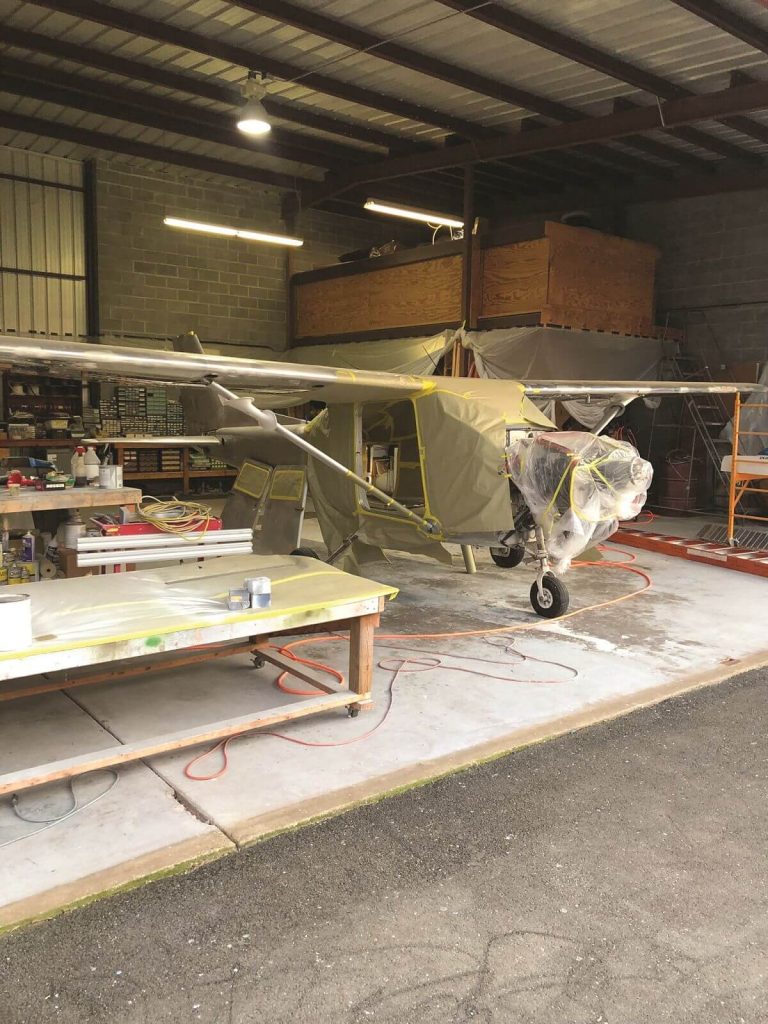 Jai and his girlfriend, Lori Petrie, chose the Skyhawk's paint scheme after looking at possibilities online and in magazines. Skyworld applied the navy and gold vinyl graphics and replaced the hardware for all of the moving parts and panels with stainless steel parts. The shop also added new placards and removed all the interior plastics and upholstery. The process took 7 months from January 2019 to the end of July 2019.
"[The] biggest challenge was the interior," Jai said. "I had to buy the fire retardant certified leather in the states, then take the old upholstery pieces along with the new leather to Colombia to the upholstery shop where they cut the stitches out of the old set and traced and copied all pieces and fabricated the new interior. Then I carried all the pieces in a suitcase and flew them back to Virginia for installation.
N64450 next went to Easton, Maryland, and Randy Cox at West Air Aviation.
"[It had] no interior at all, only a single seat with no upholstery on it," Jai said of the airplane's condition at the time.
West Air installed the custom panel and installed all the avionics. When Jai bought the airplane it had just a single Narco MK12D nav/comm with OBS and a Garmin GTX 327 transponder. The new avionics include a Garmin audio panel, G-530 WAAS nav/comm, G-430 WAAS nav/comm dual Garmin 106 OBS dual antennas, marker beacon antenna, new Garmin GTX 345 ADS-B In and Out, and new Stratus USB ports. In early September 2019 Jai flew the plane back to Skyworld to install the new plastic interior and the new all-leather upholstery.
"We are about 75% done with the process," Jai said in October 2019. "The only thing left to do is the door upholstery panels were done too small in Colombia so I had to make new ones."
Although his Skyhawk was in the shop for a large portion of 2019, Jai was able to continue flying throughout the year thanks to his second set of wings.
"After I was bitten by the flying bug again, I went crazy and between 2018 and the spring of 2019 I ended up buying three more Cessnas 172s — a 1976 N model, another 1974  M model (this one with a partner), and a 2002 172 SP — with the idea of putting three on lease-back contracts with flight schools," he said. "Unfortunately the lease backs didn't work out at all. One (the N model) got totaled by a student. The M model that I owned with a partner also got wrecked, but after a long battle and painful process, we were able to get it fixed, and I just sold my part to my partner. The newer SP model was doing OK at a school in Florida, but not good enough to recoup the investment so I ended up selling that one to a school in California and getting completely out of the lease-back business. After all of this, I ended up buying a C-182 Millennium edition that I currently own and plan to keep."
Now that N64450's restoration is nearing completion, Jai said he plans to keep it as well to pass along to his son.
This article originally appeared in the February 2020 issue of Cessna Owner magazine.