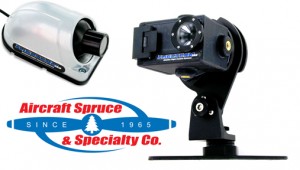 The Flightcam 360 is a flight recorder that is meant for capturing those memorable moments in the sky.
Aircraft Spruce carries multiple products by Flightcam 360. Its aerodynamic POD mount has internal eyeball style swivel capabilities, making every recording as realistic as the sight a pilot or passenger would witness.
The Flightcam 360 is waterproof, with interchangeable lenses to provide depth of field, and also comes with many different types of accessories for making flying and recording much easier.
For more information, please contact Aircraft Spruce at 1-877-477-7823 or 951-372-9555, and reference Flightcam 360.
Aircraft Spruce's complete product line is available at www.aircraftspruce.com. Request your complimentary copy of the company's free 1000+ page catalog (available in print, CD, or PDF formats).