Press Release
September 1–– The uAvionix Corporation announced the long-awaited AV-30-C panel display has received FAA STC (Supplemental Type Certification) approval. The AV-30-C offers pilots an effective and affordable AI or DG replacement that goes far beyond a single feature gauge.
AV-30-C is installable as either an AI or DG and adds a suite of in-flight information to the panel right out of the box, including a Probeless Angle of Attack Indicator, Baro Corrected Altitude, Indicated/Vertical/True Airspeed, Non-Slaved Heading, Bus Voltage, G Load, GPS Navigational Data, and more with additional features to be announced.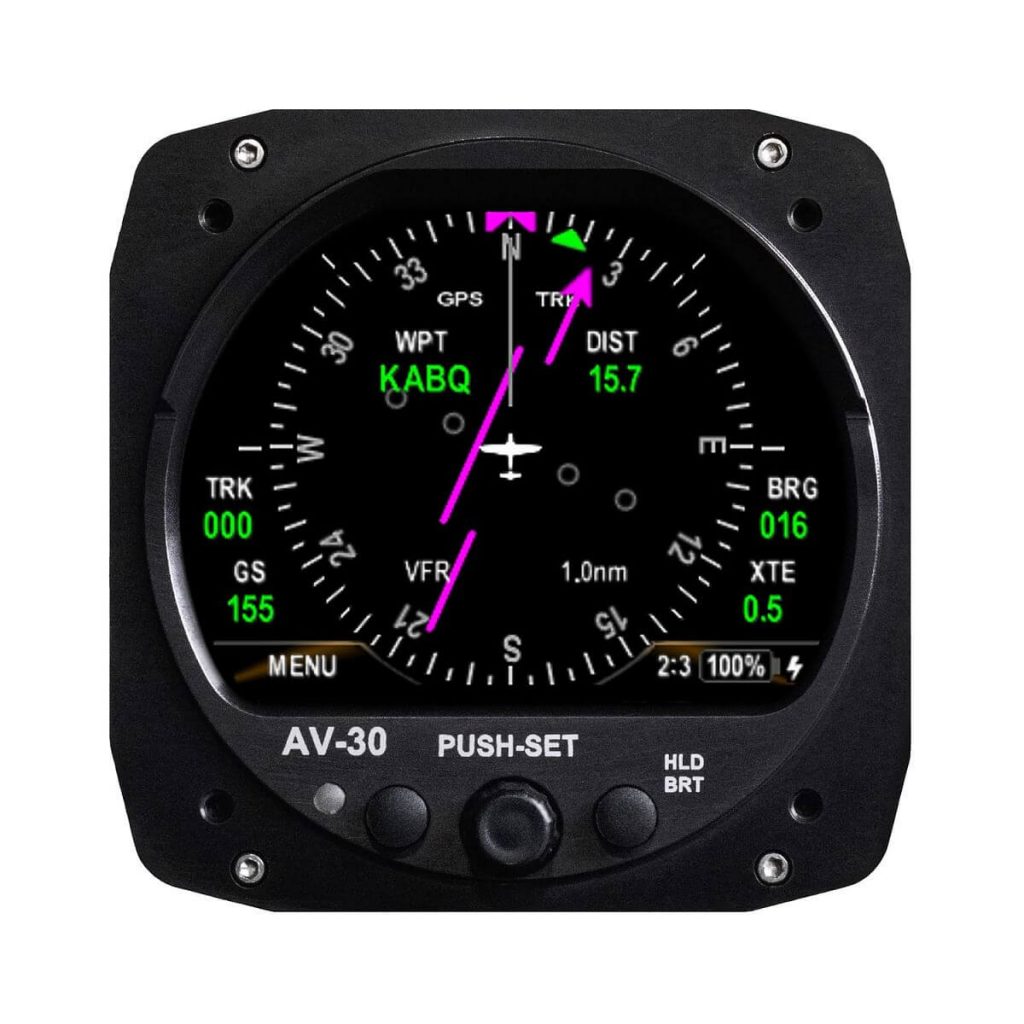 AV-30-C is designed to fit into nearly any aircraft with a three and one-eighth inch round instrument slot without cutting or modifying the panel. By mounting from behind the panel, AV-30-C preserves the aircraft's original classic look while bringing the latest that modern avionics has to offer to the panel.
The AV-30-C STC provides authorization to install in FAR Part 23 Class 1 and Class 2 aircraft (singles and twins weighing less than 6000 lbs) that are listed on the AV-30-C AML (Approved Model List), containing 635 Aircraft models including Cessna, Piper, Beechcraft, American Champion, Maule, Boeing, Swift, Mooney, Aviat, and others. The full AML is available at uAvionix.com/AV-30.
AV-30-C works brilliantly as a single primary instrument or by installing two units, one as an AI and another as a DG, the aircraft's original failure-prone vacuum pump system can be removed to further benefit from a fully digital primary instrument cluster.
AV-30-C extends its functionality outside the cockpit as the companion to tailBeaconX, the latest 1090/ES ADS-B Transponder with Aireon support for world-wide use and future mandated airspaces. Upon tailBeaconX TSO certification, AV-30-C can double as tailBeaconX's control interface, allowing the pilot to set the mode and squawk easily, while maintaining AV-30's existing feature set. tailBeaconX with AV-30-C removes the need to drill additional holes in the airframe to satisfy diversity requirements in countries outside the U.S. and keeps installation costs at a minimum.
"uAvionix is creating avionics with fundamental engineering advantages," said COO, Ryan Braun. "These are beautiful, no-compromise certified avionics designed to deliver an affordable total cost of ownership. The AV-30-C provides an innovative probeless angle-of-attack and non-slaved directional gyro, both designed to dramatically lower the cost of installation without compromising performance. Where other avionics seem designed to be replaced, the AV-30-C will get better with age. We're actively developing ADS-B In, electronic flight bag, transponder, and autopilot integrations to ensure AV-30-C becomes an indispensable instrument for every panel."
AV-30-C will support third-party autopilot systems via the APA-MINI adapter, interfacing AV-30's Heading Bug with legacy autopilots. The APA-MINI autopilot adapter is expected to release early 2021, with more advanced autopilot integrations to follow.
Preorders placed with AeroVonics, uAvionix, and through our trusted resellers will begin shipping in October. AV-30-C is now available for purchase at uAvionix.com/AV-30 and from our trusted resellers at the low price of $1995 (plus applicable tax and shipping).
For more information and a full feature list on AV-30-C, visit uAvionix.com/AV-30.