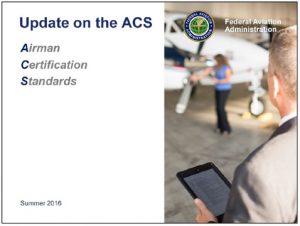 Based on collaboration with a diverse group of aviation industry experts, the Federal Aviation Administration (FAA) is launching exciting improvements that will enable testing and training standards for pilots to keep pace with today's operating environment.
Beginning June 15, the FAA will replace the Practical Test Standards (PTS) for the private pilot (airplane) certificate and the instrument (airplane) rating with the new corresponding Airman Certification Standards (ACS). Other certificates and ratings will transition in the future.
The ACS provide pilots, instructors and evaluators with a single-source set of clear, logical standards that tell them what they need to know, consider and do to qualify and pass both the knowledge and practical tests for airman certification and ratings.
The ACS improves the PTS by adding the aeronautical knowledge and risk management elements that support each PTS skill task. It also incorporates today's "special emphasis" items into the appropriate ACS task.
AOPA's statement on the new airman standards:
"We want pilots to feel that preparing for and taking the knowledge test is a valuable part of their training experience, not a memorization exercise. The new standards are designed to adapt as in-cockpit technology changes and to do a better job of integrating the knowledge and practical tests. The overall result will be a more meaningful experience for pilots and a test that better reflects all the things pilots need to know, do, and consider in order to fly safely."
– David Oord, AOPA senior director of government affairs and chair of the working group
The FAA's Airman Certification Standards page has detailed information as well as a Frequently Asked Questions page that covers the most common issues thus far. Contact the FAA at 9-AVS-ACS-Focus-Team@faa.gov with questions.