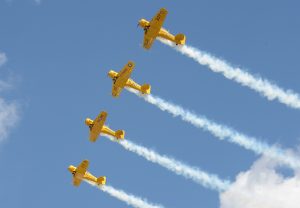 Canadian Harvard Aerobatic Team. Photo by Spencer Thornton
More performers to be added to initial all-star roster in coming weeks
Some of the world's top air show performers have made their commitments to fly at EAA AirVenture Oshkosh 2018 – the World's Greatest Aviation Celebration – as part of the afternoon and night air show lineups
Those performers include aerobatic champions and longtime Oshkosh favorites for the 66th annual Experimental Aircraft Association fly-in convention, scheduled for July 23-29 at Wittman Regional Airport. The afternoon air shows are presented by Quest Aircraft and Pratt & Whitney Canada, while the Saturday, July 28, night air show is presented by Oshkosh Corporation.
"This is already an outstanding all-star air show lineup and we're just getting started," said Rick Larsen, EAA's vice president of communities and member programs, who coordinates AirVenture features and attractions. "We use the feedback collected each year to bring favorite performers back to Oshkosh, while adding exciting new acts and air show attractions connected with particular aircraft, events, and anniversaries."
Performers and aircraft already planning to appear at Oshkosh in 2018 include:
AeroShell Aerobatic Team (T-6s)
Vicky Benzing (Extra 300S)
Canadian Harvard Aerobatic Team (Harvards)
Bob Carlton (SubSonex JSX-2)
Kirby Chambliss (Edge 540)
Matt Chapman (Extra 300LX)
Class of '45 (P-51/Corsair)
Kyle Fowler (Rutan Long-EZ)
Kyle Franklin (Demon-1 Dracula)
GEICO Skytypers (SNJ-2s)
Mike Goulian (Extra 330SC)
Rob Holland (MXS-RH)
Jerry Kerby (RV-8A)
Greg Koontz (Xtreme Decathlon/Piper J-3 Cub)
Justin Lewis (FLS Microjet)
David Martin (Beech Baron)
Jessy Panzer (Pitts Special)
Paradigm Aerobatic Team (Powered paragliders)
Patriot Parachute Team (skydiving)
Jim Peitz (Beechcraft F-33C Bonanza)
Gene Soucy/Teresa Stokes (Showcat)
Bill Stein (Zivko Edge 540)
Skip Stewart (Pitts S2S Prometheus)
Trojan Thunder (T-28 Trojan)
Sean D. Tucker (Oracle Challenger III)
Patty Wagstaff (Extra 330S)
Scott Yoak (P-51 Mustang)
Matt Younkin (Twin Beech 18)
Along with these early confirmations, many more exciting performers will be announced, including some only-in-Oshkosh performers and aircraft. Exact days for each performer and complete daily air show lineups will be announced as they are finalized.
For more information on EAA and its programs, call 1-800-JOIN-EAA (1-800-564-6322) or visit www.eaa.org. Immediate news is available at www.twitter.com/EAA.