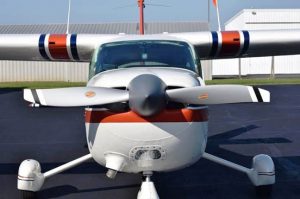 Hartzell Propeller has received an STC for its two-blade aluminum scimitar propellers to replace the factory standard props for Cessna Cardinal 177B aircraft. Offered through Hartzell's Top Prop performance conversion program, pricing is $10,800 for the new 76.5-inch diameter Scimitar propeller, composite spinner and STC documentation.
Hartzell's latest propeller offers increased 177B performance in a number of important areas. Acceleration is improved, reducing take-off distance by approximately five percent and enhancing climb performance, while cruise speeds improve two to four knots. The new prop is compatible with the Powerflow Exhaust system and meets worldwide noise limits.
"This replacement propeller gives Cardinal 177B owners and operators an opportunity to take advantage of Hartzell's strong reliability and performance advantages," said Hartzell Executive Vice President JJ Frigge. "Cardinal operators can now get a longer 2,400 hour, six-year TBO and the longest warranty in the business, all the way through first overhaul."
Beginning its 101st year, Hartzell Propeller is the global leader in advanced technology aircraft propeller design and manufacturing for business, commercial and government customers. The company designs next generation propellers with innovative "blended airfoil" technology and manufactures them with revolutionary machining centers, robotics and custom resin transfer molding curing stations.

Hartzell delivers optimal performance, strength and durability with carbon fiber blades. Hartzell Propeller and its sister company, Hartzell Engine Technologies LLC, form the general aviation business unit of Tailwind Technologies Inc. For more info, visit www.hartzellprop.com.