Groundbreaking Unleaded Fuel – Availability in Key U.S. and Canadian Locations 
Swift Fuels, LLC, a recognized leader in developing unleaded aviation fuels, introduced its Unleaded 94 MON Avgas at the annual EAA AirVenture Oshkosh Air Show, July 20 – 26, 2015. Working with key avgas producers and distributors, Swift Fuels is now making plans to supply unleaded 94 MON avgas to select regions in the United States and Canada.
This premium quality unleaded fuel, tailored for lower-octane piston-engines, is already FAA certified and meets ASTM standards for aviation gasoline. The fuel will not replace 100LL now sold at airports for high performance aircraft. Moreover, Swift Fuels' high octane fuels remain actively part of the PAFI program seeking to replace 100LL on a "fleet-wide" basis.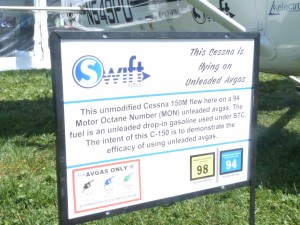 Swift Fuels believes the introduction of a cost-effective unleaded fuel in selected markets helps to begin the ultimate transition. As part of its unleaded fuel transition strategy for 94 MON avgas, the company has forged an exclusive partnership with Petersen Aviation to offer new Avgas Supplemental Type Certificates (STCs) for thousands of aircraft that are now compatible with 94 MON avgas.
Swift Fuels and Petersen Aviation have worked with the FAA for approval of the required STCs, which could allow most any class of airplane engine rated 94 motor-octane-number (MON) or lower to use Swift's fuel. Swift's team estimates that more than 40% of the existing US aircraft fleet is already qualified with FAA STC's to fly using its 94 MON aviation gasoline and more are planned soon.
Many piston-engine aircraft with engines that require avgas having a minimum octane rating at or below 94 MON are now eligible to buy the appropriate STC certificates in order to fly the fuel, including:
Cessna: Skyhawk (172 R&S), Cutlass (172 RG's), Cardinal (177's) and Skylane (182's)
Piper: Seminole, Comanche and Aztec
Beechcraft: Musketeer, Travel Air and Duchess
Maule: all Lycoming-powered models
Mooney: models A-D and G
And many other aircraft models with engines that require avgas rated at or below 94 MON
Aircraft with autogas STC's are already eligible to use the premium 94 MON avgas "as-is". In addition, Light Sport aircraft powered by Rotax engines are typically already manufacturer-approved to use 94 MON avgas "as-is". Pilots can check with Swift Fuels to verify their unique aircraft requirements.
Pilots, FBOs and airfields can now have access to a safe, lead-free and cost-effective fuel option that will eliminate toxic lead emissions from the aircraft combustion, and reduce fouling and engine wear caused by lead in the aircraft fuel system.
"Due to the known toxicity of lead, the aviation industry has been in need of an unleaded fuel option for over two decades," said Chris D'Acosta, CEO of Swift Fuels, "The time for transitioning to unleaded avgas starts now. We are pleased to be offering an affordable, lead-free avgas alternative to the GA community. Swift Fuels, in collaboration with regulators and key stakeholders across the industry, is committed to providing pilots and aircraft owners with a safe, cost-effective, high-performance, environmentally-friendly unleaded fuel for their aircraft."
About Swift Fuels – Swift Fuels is a global leader in developing unleaded aviation gasolines for the general aviation marketplace. The company is committed to eliminating tetraethyllead from aviation fuels while providing safe, environmentally friendly, high-performance fuel alternatives. Through support and collaboration with ASTM, FAA, OEM's and others with in the industry, Swift Fuels is working towards achieving fleet-wide certification for their fuel in the PAFI program. For more information, please visit http://swiftfuels.com/.