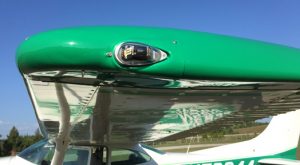 Wichita, KS – (December 22, 2016) – Wilco Vice President Mike Hattrup announced FAA approval of its modification of STC SA01827WI to convert Cessna Aircraft Single Engine Aircraft built in 1972 and after, with factory original style wingtips, to Whelen Orion LED Nav/Strobes via a kit developed by Wilco.
SA01827WI permits the replacement of the existing Nav Light or Nav/Strobe with a Whelen Orion LED Nav/Strobe utilizing a mounting plate developed by Wilco.
According to Hattrup, "Incorporating the latest state-of-the-art LED Technology available in an all-inclusive package, the Whelen ORION650 series eliminates the need for external flasher boxes." "Using a plate specifically designed for original factory style Cessna wingtips, the Whelen Orion OR650 is flush mountable for a wide variety of applications with minimal integration and easily retrofitable to the Whelen legacy strobe products." "The ORION650 series is quite simply the brightest form of LED Anti-collision and Position lighting available", he added. The new STC will require replacement of legacy lights in all three Nav Positions with options for Nav/Strobe or Nav only on the tail position
Whelen's Orion series lights offer the consumer a significantly reduced amp draw and longer life than traditional incandescent fixtures.
This is Wilco's first STC in lighting products. Wilco holds 10 STC's allowing for battery installations on over 450 different models of aircraft including most Beech, Cessna and Piper Piston and Turbo-Prop aircraft, as well as 4 STC's for landing gear inspection mirrors and 1STC to replace the fresh air vents on the Cessna 210.
About Wilco – Wilco is an after-market distributor of aircraft parts, including Concorde Batteries, Lamar Technologies, LP Aero Plastics, PM Research, Rapco and Rapco Fleet Support, and Whelen Lighting, in addition to maintaining over twenty thousand square feet of Piper Surplus inventory. Wilco is also a distributor of 4130 Chromoly Steel Sheet and Plate in 16 different thicknesses and over 100 different sizes in both Annealed (AMS6350/6351) and Normalized (AMS6345) conditions. Wilco has been providing quality products, service and support since 1953. Learn more at www.wilcoaircraftparts.com.

Save