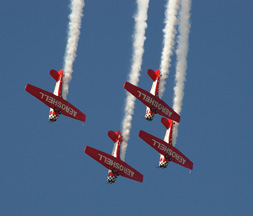 EAA AVIATION CENTER, OSHKOSH, WI — (January 11, 2016) — Some of the world's top air show performers have made their commitments to fly at the EAA AirVenture Oshkosh 2016 fly-in – The World's Greatest Aviation Celebration – as part of the afternoon and night air show lineups.
Those performers include national aerobatic champions and longtime Oshkosh favorites. They will add to the one-of-a-kind aircraft and performances that are part of the popular daily flying programs.
"Over the past several years we've dedicated ourselves to create the best air show lineup for both our afternoon and night air shows at Oshkosh," said Rick Larsen, EAA's vice president of communities and member benefits who coordinates AirVenture features and attractions. "That means gathering using the feedback we collect each year to bring back favorite performers, while adding exciting new acts, unique highlights, and air show attractions connected with particular aircraft and anniversaries. Air show performers know that flying at Oshkosh establishes them as one of the best, performing for the most knowledgeable audiences in all of aviation."
EAA AirVenture 2016 is July 25-31 at Wittman Regional Airport in Oshkosh. Among the performers and aircraft already committed to Oshkosh in 2016 are:
AeroShell Aerobatic Team (T-6s)
Luca Bertossio (Swift S-1 glider)
Jeff Boerboon (Sasquatch)
Canadian Forces Snowbirds (Canadair Tutor jets)
Bob Carlton (SubSonex JSX-2)
Kirby Chambliss (Edge 540)
Matt Chapman (Extra 300LX)
Kevin Coleman (Extra 330SC)
Kyle Franklin (Dracula)
Geico Skytypers (SNJs)
Mike Goulian (Extra 330SC)
Rob Holland (MX-2)
Jerry Kerby (RV-8)
John Klatt (MX-S)
Greg Koontz (Xtreme Decathlon)
Sammy Mason (Pitts S-1S)
Paul McCowan (American flag skydiver)
Patriot Parachute Team (Skydivers)
Jim Peitz (F-33C Bonanza)
Rex and Melissa Pemberton (Edge 540/Wingsuit)
Kent Pietsch (Interstate Cadet)
Gene Soucy/Teresa Stokes (Showcat)
Bill Stein (Edge 540)
Skip Stewart (Prometheus)
Team Aerostar (Yak-52s)
Team Redline (RV)
Sean D. Tucker (Oracle Challenger III)
Patty Wagstaff (Extra 300LX)
Matt Younkin (Twin Beech)
Among Warbirds performers already confirmed are the Tora Tora Tora demonstration, Texas Flying Legends, "Class of '45" Mustang flown by Scott Yoak and Corsair flown by Jim Tobul, and Greg Shelton's Wildcat.
Along with these early confirmation, many more exciting performers are yet to be announced, including some not-seen-anywhere else performers and aircraft flying at Oshkosh. Exact days for each performer and complete daily air show lineups will be announced as they are finalized.
About EAA AirVenture Oshkosh – EAA AirVenture Oshkosh is the "World's Greatest Aviation Celebration" and EAA's yearly membership convention. Additional EAA AirVenture information, including advance ticket and camping purchase, is available online at www.eaa.org/airventure. EAA members receive lowest prices on admission rates. For more information on EAA and its programs, call 1-800-JOIN-EAA (1-800-564-6322) or visit www.eaa.org. Immediate news is available at www.twitter.com/EAA.