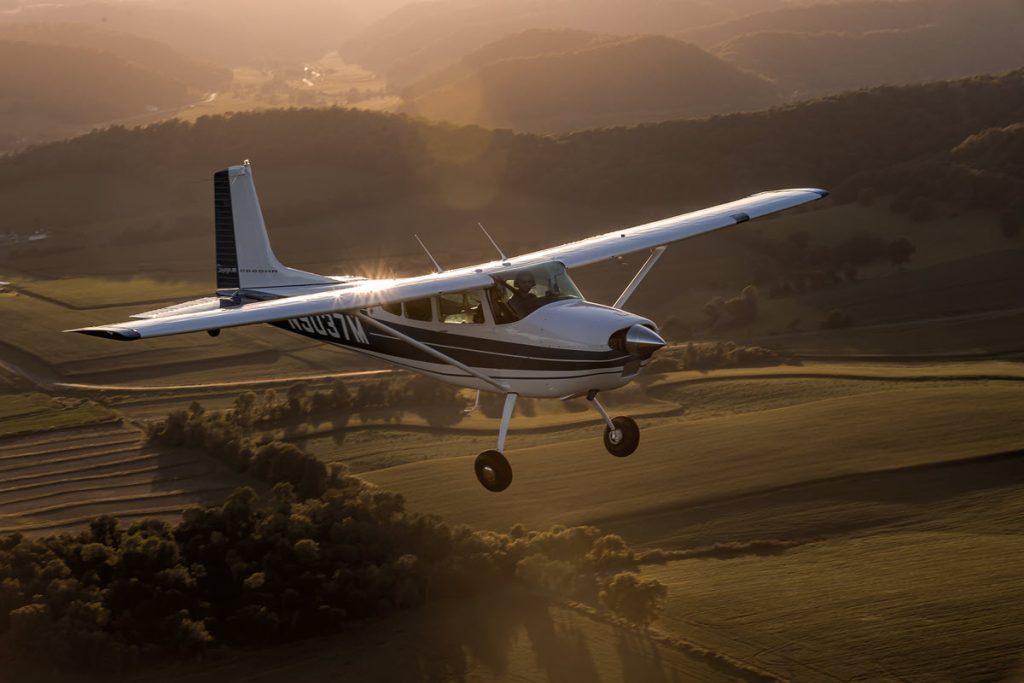 By Dan Brownell
Although Austin Levin didn't grow up in an aviation fam­ily, he developed an enthusiasm for flying as a kid and he's only grown more passionate over the years.
"I don't come from a family of pilots. In fact, I'm the first in the family to be a pilot," Austin said. "My flying story started when my dad gave me Microsoft Flight Simulator X for my birthday. Over the following year, I spent countless hours on the computer, and the only thing my dad could think of to get me off the computer was to buy me an introductory flight at the local airport. After my discovery flight at 13, I was hooked and, from then on, I worked toward my ratings: solo at 16, private at 17, and commercial at 19.
"I always dreamed of owning an airplane," Austin said. "The freedom of being able to take off whenever you want and go wherever you want is what enticed me into aviation. I really homed in on Skywagon ownership when I started seriously shopping in college. Why wouldn't I? It cruises at 140 knots and easily handles 1,000-foot or shorter runways. It can do it all!"
Austin took a break from ratings while he earned his engi­neering degree and focused on saving for his dream airplane during that time. To keep current and prepared for a Skywag­on, he flew a couple of rental, swept-tail 172s that had been converted to tailwheel. "These conversions tend to get a fairly bad reputation, but I loved flying these taildraggers," he said. "They flew very nicely and trained me extremely well for getting into a Skywagon. Once I purchased N9037M and graduated, I got the rest of my ratings: instrument, multi-engine land, single-engine seaplane, multi-engine seaplane, CFI and CFII."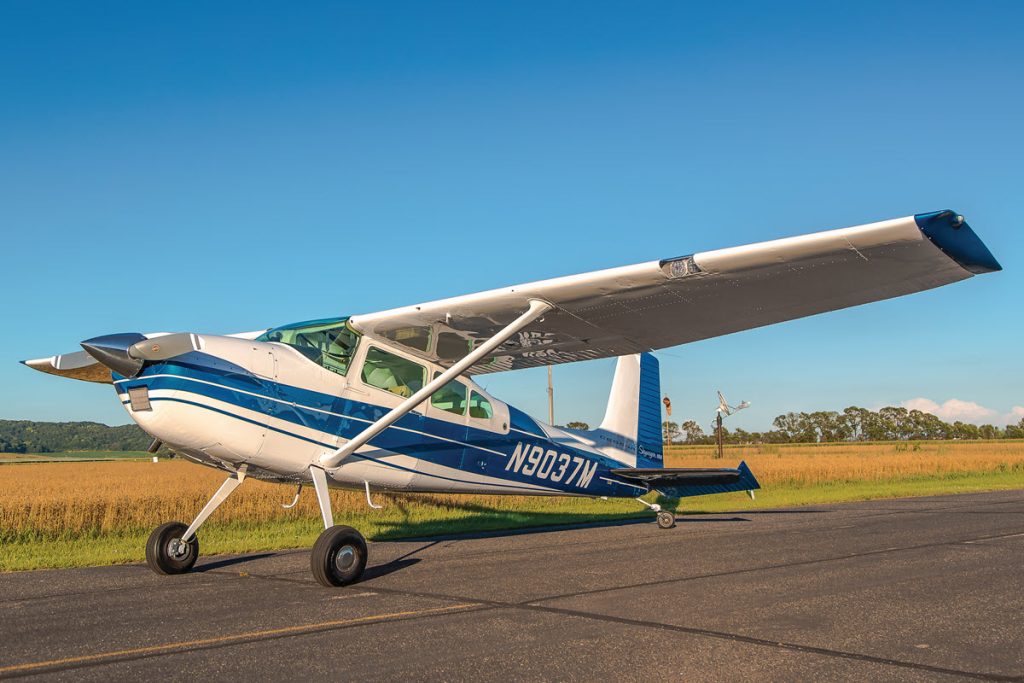 Sacrificing for the Dream
Austin worked incredibly hard to achieve his goals. "All through college I saved every penny from engineering internships and working as a ramp rat at the local airport. My wife, Amanda, can attest that I was absolutely dedicated to saving money, scrounging away everything toward my dream of owning a Cessna 180."
In his final semester of college, Austin had saved enough for an airplane, so he put his plans in to motion. "The first Skywag­on I wanted to buy was owned by a gentleman who had a 1955 Cessna 180 that only flew a few hours a year," he said. "I had talked to him years before when he offered to sell it to me, but I knew I wasn't in a position to own it at the time. He graciously offered to hold it for me until I was ready. A couple years later, I was all set to do a pre-buy and come bring it home.
"Unfortunately, during the annual, the owner found corro­sion in the engine and was open and honest about it. He told me he couldn't in good conscience sell the plane in that condition to someone in my position. It did work out for the best, though. He rebuilt the engine, has done a couple of upgrades, and now flies it more than ever."
When the deal on the 1955 Cessna 180 fell through, Austin had to begin the hunt from scratch. It was devastating to start over after he had his heart was set on the original early model. He called a few Trade-A-Plane ads, but each fell through for various reasons. "Either the sellers were flaky or wouldn't allow a pre-buy inspection or I was just too late," he said.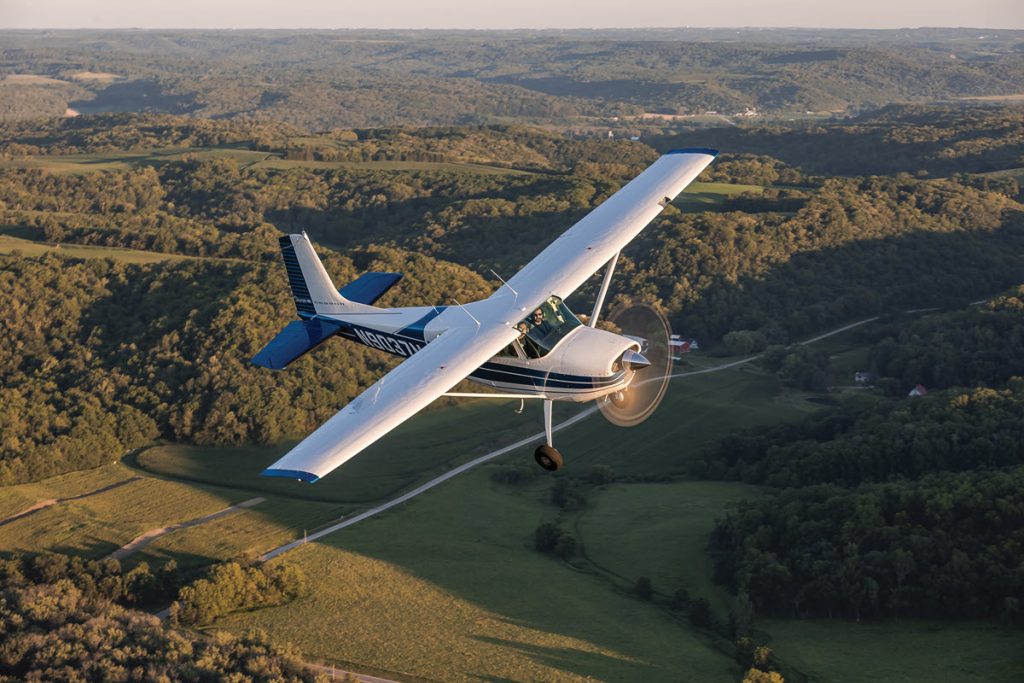 Success at Last
In desperation, Austin posted on Facebook in early 2018 asking if there were any early model 180s for sale. "The only nibble I got was from someone asking if I'd consider a late-model 180, to which I said, 'I probably couldn't afford a late model.' At the time late mod­el 180s were going for around $30,000 more than early models.
"Later, that same person, Steve Paone, the plane's mechanic, posted N9037M for sale, and I saw it was barely in the price range I could afford. I was the first to comment on the post and message him saying I'd like to come take a look at it. Amazingly, he held my spot in line, with probably a dozen interested parties behind me.
"The post went up on Friday and I had tickets to be there on Wednesday. I brought my friend, instructor, and also new Skywag­on owner Kole Van Treese to accompany me for training on the flight home. We arrived at a farm south of Detroit, where I met the owner, Tom Schramm. He offered us some beers and I got to work looking over logs.
"Due to the hurried nature of the transaction, I had Steve Paone do the pre-buy inspection. Generally, it's not advisable to have the existing mechanic do the pre-buy, but Steve worked in my best in­terest and looked over the plane with an emphasis on finding cor­rosion — one of my main concerns.
"After a day's worth of diligence and a call to my fiancée, Aman­da, I initiated the wire transfer, and N9037M was about to be mine. The following day as we waited for the wire transfer to complete, Tom told us the history of the plane, how it was owned by his friend, and that he bought it from the estate when he had passed. Later, Kole and I took off in N9037M from the farm and flew home to Colorado with a stop overnight in Kansas City.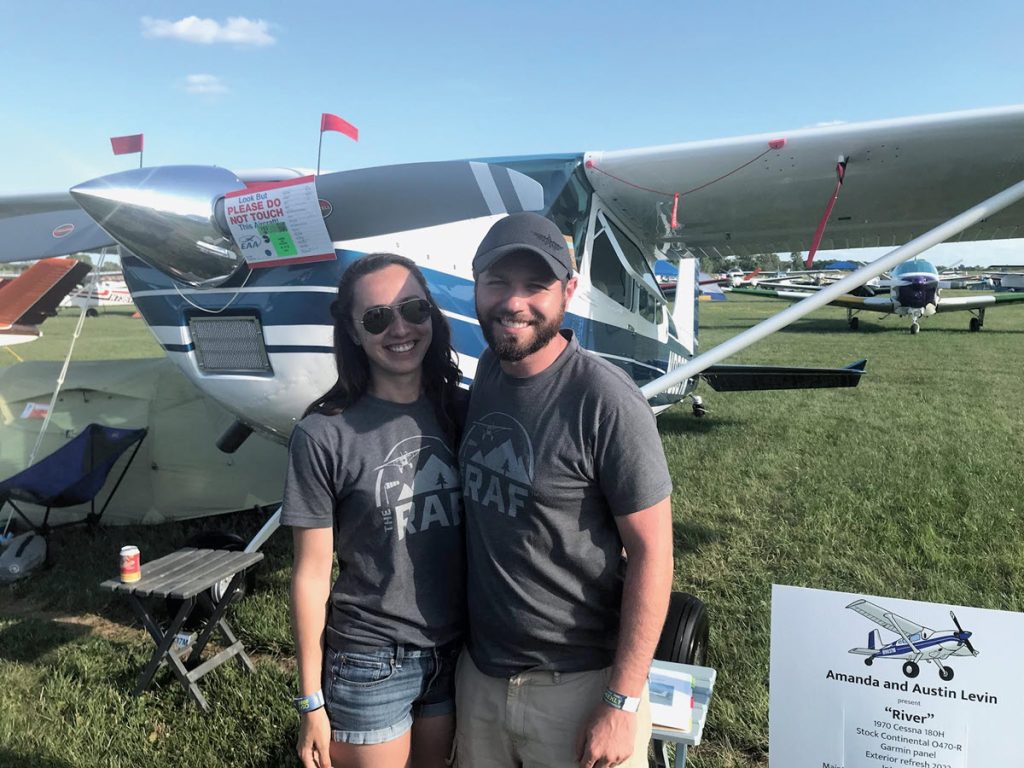 Bringing a Legacy Plane Up to Date
The airplane had minimal upgrades when Austin bought it. "It was pretty close to factory original, including original paint," Austin said. It had an engine remanufacture and avionics in 1986, P. Ponk landing gear beef-up, and a one-piece windshield. The plane was overdue for more extensive upgrades, so the sec­ond the airplane reached home, the work started. The first thing Austin addressed was the tail. "When we initially purchased the aircraft, the elevator controls had a fair amount of 'slop.' At the time, there was a service bulletin for cracks in the tail, so we performed that inspection then. We also added the Cessna Ser­vice kit inspection panels, Aeropod tail inspection panels, and Cessna pull handles.
"Next, we addressed safety items, installing BAS inertia reel harnesses (the airplane didn't have shoulder harnesses in­stalled), upgrading to a 406 ELT, and upgrading to LED lights (but keeping the original light configuration). We also wanted to improve engine operation, so we installed the Reiff Engine Heater, firewall battery STC, and a JPI 730."
For the panel, the first step was to get the airplane IFR certi­fied again. This required chasing down leaks in the pitot static system and replacing instruments as needed. Over the course of our ownership, the panel was slowly improved from the 1989 IFR setup to a modern IFR panel, while still keeping true to the original 1970s panel look. This included a new Garmin radio stack, panel-mounted Aera 660, and two GI 275s to replace the AI and DG, allowing the vacuum system to be removed.
A Six-Month Setback
"The restoration road wasn't easy, as we encountered a huge setback in 2020," Austin said. "The tenant in the T-hangar behind ours left their hangar door open overnight during high winds. This caused a part of the interior wall to blow back on our airplane and the airplane in the hangar adjacent to ours. The wall landed on the left-hand side of the aircraft, the impact sheared the bolts off the main tube connecting the stabilizer, damaged the rudder, the left-hand elevator, and hit a ladder that wedged into the left aileron. We got lucky that the wall didn't actually hit the wing, due to the ladder that wedged into the aileron. So we only had to replace control surfaces and rebuild the stabilizer. This set us back at least six months as we also suspected gear damage, so we saved up to replace the gear with new spring steel gear from The Landing Gear Works."
They slowly worked on improving the interior in 2021 to 2022, removing the old, dry-rotted plastic and DIY interior panels and installing Selkirk foam insulation. "We completed the Selkirk interior panels over the winter and also removed the old wool headliner and fiberglass insulation. We installed foam insulation in its place but had to fly without a headliner until we could paint the airplane. We also spent time refurbishing some of the original pieces of the airplane, such as the arm rests, rear air vent covers, yoke emblems, etc."
New Paint for a New Look
Finally, they finished the restoration with new paint. "37M came to us with original paint that had faded considerably over the years. We wanted to keep the original paint scheme and choose a color that closely matched what was available at the time," Austin said. "It took around four months at Mid­west Aircraft Refinishing to get completely stripped and re­painted, but the wait was worth it. 37M came back looking factory new, and we topped it off by installing a new Hartzell propeller and new exterior 'Skywagon' placards we ordered from Cessna. 37M is one of 181 Cessna 180s that came from the factory with those placards and is only one of two we know of today that still has them."
To mark the end of the four-year restoration process, they decided to enter 37M in the vintage showplane competition at the 2022 EAA AirVenture. "Just being able to share the fin­ished restoration with so many people at the show was reward­ing, but to top it off, we won "Outstanding in Type — Cessna 180/182/185/210!," Austin said.
While no project is ever truly complete, he feels they've made it to the standard 'maintenance' phase for the airplane. "Every­thing is updated and it's just a matter of staying on top of it and not letting anything slip."
A Reflection on Restoration
Austin learned a lot from his work on restoring N9037M, but it was much more challenging than he expected. "I went into the restoration thinking that a Cessna 180 doesn't have retract­able gear, two engines, or electric flaps. It doesn't even have an oleo strut, so it will be simple and easy to maintain and restore. Nothing could have been further from the truth. My naive self had no idea what was in store or the hours, money, and aggra­vation that would ensue for the following four years of the res­toration. That said, I now know the plane inside and out. It has grown with our family and is very much a member of the family. I don't think that would be the case had we not done the full restoration. My advice would be to just enjoy the process and not only focus on the end goal."
In retrospect, there are some things Austin would have done differently. "The restoration could have gone more efficiently if I had decided not to keep it a flying restoration and, instead, put the plane down for a year or two to get it fully completed inside and out. But it's all personal preference for the mission of your plane. The flying restoration part was important to me, as it spread out our costs because, as newlyweds and recent college graduates, we couldn't afford a full restoration up front. It also allowed me to learn and get familiar with the airplane."
A "Do-Anything" Aircraft
Austin loves the versatility of their Skywagon, which they af­fectionately named River. "It can do anything," he said. "She can be a 'go places plane.' We've flown across the country to visit family and to attend the Cessna 180/185 conventions. She can also be the trainer. I've gotten several certificates in 37M, in­cluding my Instrument and CFI. But most often we fly her to local backcountry RAF (Recreational Aviation Foundation) air­strips, where we camp with friends and our dog Scooby."
From Austin's perspective, the Cessna 180/185 is a highly ca­pable airplane stock and doesn't require a lot of modifications to accomplish either backcountry or cross-country missions. "While some STCs may be fun for STOL flying or adding a few knots, none of them are necessary. The plane performs very well in backcountry as is, and it still maintains excellent cross-coun­try characteristics. For the mission I have, I personally didn't see a need to mess with the stock aerodynamics of the plane because I think Cessna did a great job from the factory."
A Nod to All the Support Over the Years
Austin is grateful for all those who have helped him accomplish his dream. "My wife, of course, has been my biggest advocate. As a private pilot herself, she has supported me through college to achieve my goal of airplane ownership, and then has taken on the restoration of 37M as her own mission as well as mine.
"My dad deserves mention for seeing the passion in me and then fostering it even though he didn't have any experience in general aviation. And Ted Dupuis has been an invaluable men­tor to me, both as an engineer, pilot, and plane owner. Ted has vast experience flying animal rescue missions as a founder of Cloud Nine Rescue flights, and he has bought and sold four air­planes, all twins of progressively more advanced models."
Parting Words of Wisdom
Austin has some advice for other young 180/185 pilots based on his time behind the yoke of his 180. "Certainly join the Cess­na 180/185 type club. It's a wealth of information on a type that's been around the world as a working plane. The tails are some­thing to keep an eye on, as there are ADs out for them. I would recommend adding Aeropod inspection panels above and be­low the tail as soon as practical, since it will make access to the tail far easier and will only serve to help you into the future.
"The Cessna 180/185 can be demanding planes to fly. Experience in smaller taildraggers doesn't always directly translate into flying a Skywagon, so always get adequate instruction and practice, prac­tice, practice. Don't only practice on nice days, either. Go out when it's at or just above your personal minimums for winds and practice then because you won't always have the choice of when and where you may have to land. Of course, if you're uncomfortable, bring an instructor with you to help. I'm an advocate for keeping skills sharp by always challenging yourself, not just by limiting the challenge because weather can be unpredictable."
| | |
| --- | --- |
| Engine | Continental O-470-R |
| Horsepower | 230 |
| Top Speed | 170 mph (148 kts) |
| Cruise Speed | 121 mph (105 kts) |
| | (@ Economy Cruise) |
| Fuel Capacity | 65 gal |
| Range | 925 miles |
| | (@ Economy Cruise) |
| Gross Weight | 2,800 lbs |
| Empty Weight | 1,545 lbs |
| Avg. Useful Load | 1,255 lbs |
| Takeoff Ground Roll | 625 ft |
| Takeoff Over 50 ft Obstacle | 1,205 ft |
| Landing Ground Roll | 480 ft |
| Landing Over 50 ft Obstacle | 1,365 ft |
| Rate of Climb | 1090 fpm |
| Ceiling | 19,600 ft |
| Doors | 2 |
| Seats | 6 |
| Electrical | 40.25 in |
| Dimensions (approx.) | |
| Cabin Width (at shoulder) | 40.25 in |
| Length | 25 ft, 9 in |
| Height | 7 ft, 9 in |
| Wingspan | 35 ft, 10 in |
SPECIFICATIONS & PERFORMANCE:1970 CESSNA 180H Skywagon
These are the specs for a 1970 Cessna 180H. Every vintage airplane is now different; do not use these specs to plan a flight. All data taken from the Standard Catalog of Cessna Single-Engine Aircraft
(JP Media LLC).
Select a photo to open a pop-up slide show.