By Rocky Landsverk
There are several great reasons to be actively involved in your Cessna's restoration. Possibly the best reason is that it helps you learn more about your plane than you could possibly know otherwise.
Kevin Horrell experienced that during the restoration of his 1985 Cessna 182R. He has a great mechanic who's also a great friend, but Horrell said he's glad he was involved during the process.
"We did all this in concurrence with the annual inspection, and I helped, and I learned a lot about my plane by doing that," Horrell said. "I was protective of things that I'm sure those guys would have protected, but not at the lengths that I did.
"For instance, when the AOA heads-up machine was being cut into the dash, you've got all your avionics and stuff down below there, so I'd crawl up underneath there with a vacuum cleaner and make damn sure that stuff wasn't falling in the back of my panel somewhere."
Horrell's good friend Scott Marquardt teamed to find and re­store this plane. It took Horrell a bit to find just the right plane. Or, as he admits, he had to find the right plane twice.
"I had been out of flying for many years, and when I got back into it back in 2016, I wanted my own plane," Horrell said. "I had owned an Archer previously and I was looking for an Archer, and I found one in Salt Lake City, Utah, in January 2017. I don't know why, but I didn't like it, so I sold it, and bought a 172 in Colorado Springs. It was too slow, and it needed avionics upgraded, so I sold that."
He then flew a 182 that was found by his friend Marquardt, who runs Sparta Aero Services out of KSAR, Sparta Commu­nity Airport, in Sparta, Illinois. Horrell flinched and didn't buy that plane ("I probably should have," he admitted) but it put him into a 182 mindset.
Finally, he found this plane online and went to Pine Mountain, Georgia, to buy it, with Marquardt along to help. "Scott is a CFI and an A&P, and we flew to Atlanta and drove to Pine Mountain," he said. "We knew it needed a paint job when you saw it up close. We made a deal, and Scott and I flew it home, and the work began."
That was in August of 2020 and this work has been ongoing ever since. Quotes in the photo gallery are from Horrell.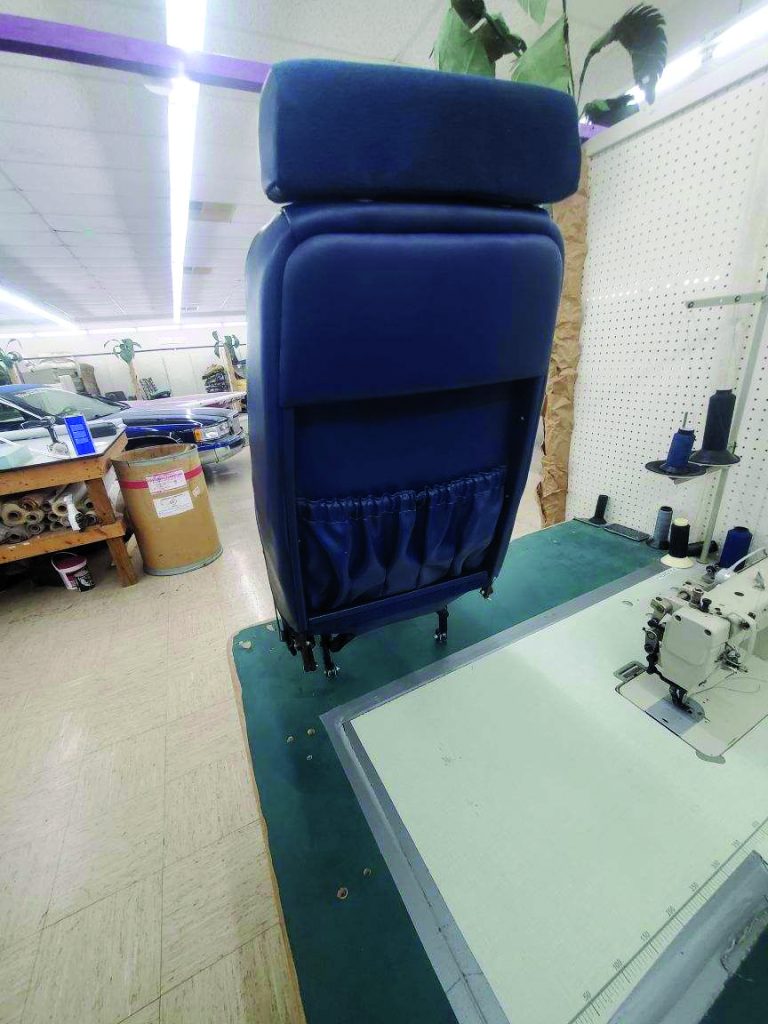 "I had bought an Aerotherm engine heater; that's the thing that hangs on the front of the engine and squirts warm air into the engine, and it came with these sponges, and I thought 'there's got to be a better way to do this. If you had a cowl plug that had a hole in it, that would be an excellent thing,' so I asked Rob if he could make those. So, he made me cowl plugs that I can plug my engine heater into, and he made the plugs that fit in that round hole, so I can use them for either my engine heater, or as regular cowl plugs."
"I was looking for an organizer, and I found one that was plastic, and I found one that was metal, and the plastic one was reasonably priced, and the metal one was much heavier. So, I called the guy [with the plastic one], there was no email, he was in California. One day he called me back and he said, 'I had a fire a couple of years ago and it burned up all my seat organizers and I'm not making those anymore and I don't know why the website is still up. I sold the rights to make these things to a fellow in North
Carolina named Steve.' "So I call Steve Rhode. He flies a 182, and he said, 'Maybe you'll motivate me to start making these things.' A couple weeks went by, and he called me and said he had made a couple, so he shipped them. Now he has them in the Sporty's catalog."
These are the flap gap seals that were installed. The photo at the left shows two things: 1) It shows the brackets underneath the flap gap seals that needed to be installed, which involved drilling holes and cleaning them up; it was a lot of work. 2) Top left inspection plate with a square black plate in the middle of it is the landing height system that I installed [Microkit Solutions landing
height system, reviewed in the July 2021 issue]. It's hooked into the audio panel, and it starts calling out at 100 feet."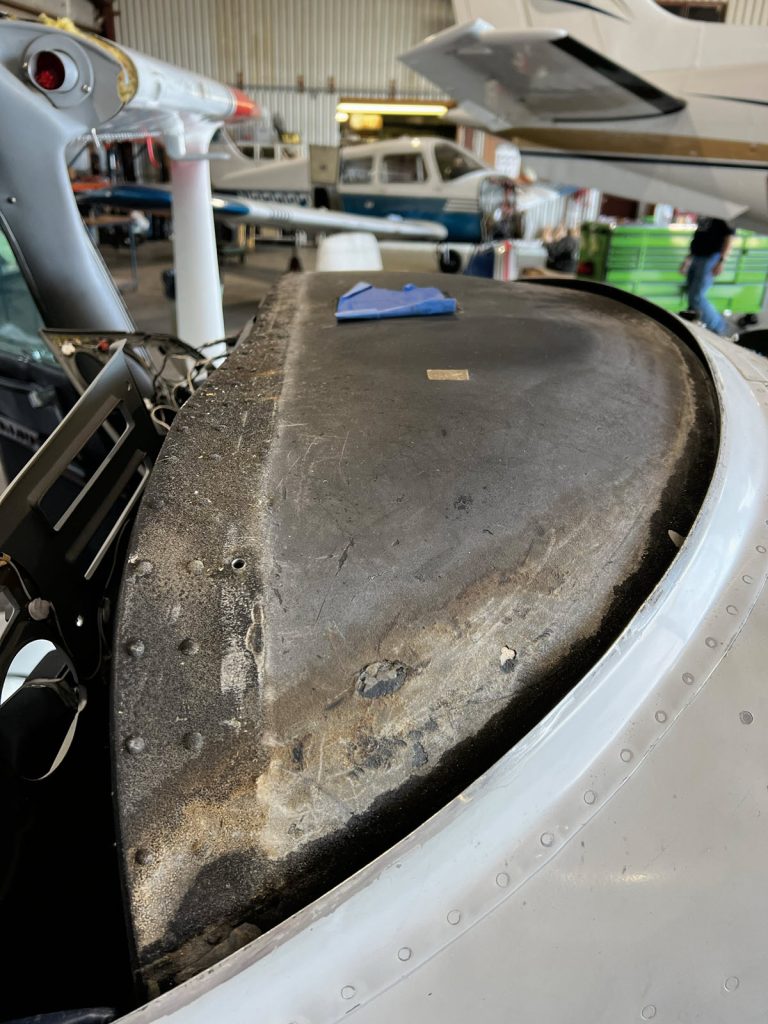 "That's one of the boxes for the AOA system from Alpha Systems AOA. The blue and white lines go out to two holes in the AOA probe out on the wing, and that's how it determines angle of attack, using the variance in the pressure on those two holes, and those two hoses send that to that box. "The second picture shows the probe. The third picture shows a box you can add to get three settings; I can get a blue donut with no flaps, with 20 degrees of flaps, and with 40 degrees of flaps, which is really nice."