© [edb3_16] / Adobe Stock
By Scott Sherer
COO Aviation Director
As pilots continue looking for affordable aircraft in a booming used-plane market, it might become important to know how to buy a plane from a foreign country, especially Canada.
So we asked an expert. His name is Peter Conner and he owns Yankee Aviation Services in Plymouth, Massachusetts.
It would be easy to say that a) he owns a good shop and b) he's a great flight instructor and c) he's worked for the FAA and knows just about everything there is to know in aviation and d) that he's an accomplished pilot who has owned several planes, including an Aerostar, a plane that I have lusted over for 30 years. He's also a Master Pilot.
Relevant to this article, he's a DAR, which is short for the FAA title "Designated Airworthiness Representative."
So when we looked to write an article about how to purchase a plane from, or sell a plane to, a foreign party, we turned to this expert on aircraft imports and exports.
Designees and Recurrent Inspections
Conner said people who call him for advice about how to import or export an aircraft have typically contacted their FSDO with questions and gotten referred to one of the FAA's "designees," another name for DAR. Conner explained what a designee does.
"Back in 1938, Congress enacted legislation to appoint qualified individuals who would be authorized to perform many of the existing functions that FAA inspectors previously performed," Conner explained. "The first designees were sanctioned around 1940. These individuals would be trained exactly like the inspectors but would be allowed to charge a fair fee for their services.
"Somewhere around 1950, the designee pool was expanded to include many functions the FAA could not handle. This would eliminate much of the backlog for various inspections, as the agency clearly did not have the manpower to handle all the requests. The maintenance DAR, identified as a DAR-T, was created to handle what are considered 'recurrent' aircraft inspections for standard category aircraft and initial certifications of experimental aircraft.
"In simple terms, a recurrent inspection is done on an aircraft that at one time had been issued a certificate by the FAA. It could have even been an export certificate, but some type of original US certificate had to have been issued. In the case of experimental homebuilt aircraft, a maintenance DAR is allowed to issue the original airworthiness certificate, along with necessary operating limitations."
The Import Process
Now that Conner has explained the basic operations of designees, he helped describe how a typical import process might work, using Canada as an example.
"Let's say you have found a Piper PA-28R that is for sale in Canada, but you're in the US," Conner said. "You call the FAA office in your area, and they will probably tell you to contact one of their maintenance DARs. From my research, I believe there are roughly 250 around the country. In the Boston area, there are two of us. The FAA publishes a listing of all the designees around the country by state. If you Google FAA DARs, you will find it.
"Alongside each designee's name is a list of their limitations, as authorized by the FAA. You will find next to each name is a series of numbers. We call those our 'authorized function codes.' But you will probably not know which code you require. My suggestion would be to reach out to one of the listed designees and explain what you need. He or she will tell you if they can perform the inspection for you."
Conner said that not all designees have the same limitations. Of course, when they are first appointed, they are very limited by the FAA. "Many of us who have been doing this for many years are authorized to perform most of the inspections an FAA inspector can perform," he said.
Here's how the process typically goes, once you have found a designee who can assist you. "First, it must have held a US certificate at some point, which most have," he said. "Then, you will probably be advised to have the seller obtain an export certificate from Transport Canada (the Canadian equivalent of our FAA). There may be a reluctance to do this as it does cost them money, but it assures us that a designee in Canada has inspected the aircraft to see that it conforms to the US type certificate. This makes the process run more smoothly for an FAA designee."
But Conner pointed out that an export certificate from Canada is not a required item. "The aircraft will have to undergo a complete inspection prior to any certification," he said. "Look at it this way: The certificate is like a birth certificate for the plane. Once your purchase transaction is complete, the seller will have to notify the exporting government that the registration needs to be canceled in that country. The countries have to work together because any aircraft can only be registered in one country at a time. Once the registration has been canceled in the country of origin, you can apply for a US registration."
Conner stressed that while "almost any aircraft can be registered with the proper documentation, an airworthiness certificate cannot be issued prior to the permanent registration being issued. Temporary registrations are not at all adequate for the inspection and issuance of the certificate."
Your DAR (in the US)
Once these steps are complete, you are ready for the DAR of your choice to inspect the aircraft. In June 2020, the FAA initiated a new process for applying for certificates online. It is called AWC. All the required information and application from you, as an applicant, can be loaded into a portal on this website; then it is forwarded to the inspector of your choice.
"Again, Google 'FAA AWC' and you should find it," Conner said. "The DAR will inform you of his or her fee for this inspection. Keep in mind all designees are well-qualified, licensed A&P mechanics, but they are limited in this capacity to only inspecting. They may not do anything mechanical."
Conner said your airworthiness certificate is not far away at this point. "Once the DAR has inspected the aircraft for full compliance with the TCDS, checked required placards, verified your AD list, and whatever else might be needed, you will be issued the airworthiness certificate," he said.
The Export Process
Conner said the export to a foreign country is not much different. "The US has bilateral agreements with many countries," he said. "These agreements between countries specify what is expected for import or export between them.
"Many countries now require an export certificate in order for it to be placed on their registration. Again, DARs charge for this service based mostly on the complexity of the aircraft and the amount of time required to complete the certification."
Conner added that although you can certainly purchase an experimental aircraft from another country and receive an airworthiness certificate here, since it will not meet any FAA standards it will not be entitled to an export certificate from that country. So basically, you are on your own.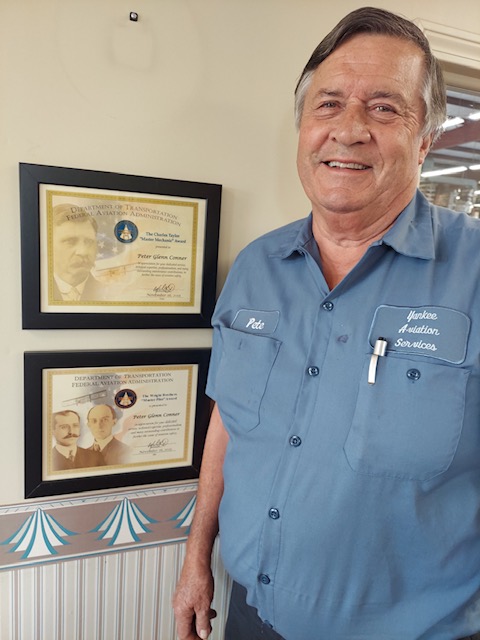 About Peter Conner
Yankee Aviation Services
Plymouth, Massachusetts
(508) 746-5511
After getting his private and commercial flying ratings, Pete initially hoped to become an airline pilot. When that did not work out, he was happy to use his mechanic's licenses, which he had obtained shortly after graduating from high school.
From 1965 on, it has been nonstop aircraft maintenance with some occasional flight instruction mixed in. While still in the Navy in 1968, he became an authorized inspector while attached to the Baltimore, Maryland, office of the FAA.
In 1986, after a considerable application process to the FAA, Pete was appointed as a Designated Airworthiness Representative (DAR) for maintenance by the Boston office of the FAA. He is one of only a handful of folks in the New England area with this honor. Many of the functions he is allowed to perform on behalf of the FAA are listed on the company home page (yankeeaviation.com). In 1988 Pete was designated as an examiner for mechanic applicants by the FAA. In1997 He received an award he is most proud of:" Mechanic of the Year "for the New England Region of the FAA. Also in November of 2015 he had the privilege of receiving both the FAA's Charles Taylor Master Mechanic Award and the Wright Brothers Master Pilot Award recognizing his active 50 years in aviation. Peter is an active pilot , having owned 25 different airplanes, and has attended numerous aviation mechanic schools, Including Cessna 300/400 series, Piper Aerostar, single engine Cessna, and most recently the Eclipse 500 school. He is now currently flying a Piper archer after selling the 700 Aerostar.