Tucson, Arizona – Guardian Avionics is pleased to announce that it has received the first ever FAA approval to install manufactured products into certified aircraft as "Non-Required Safety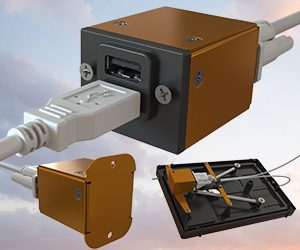 Enhancing Equipment" (NORSEE) under the requirements outlined in PS-AIR-21.8-1602.
This new authorization allows all models of the popular Guardian Avionics iFDR Panel Mount line for iPad and iPhone and all iFDR Power 150 and 250 USB Power Supplies to be installed in all CFR Part 23 certified General Aviation aircraft and Part 27 and 29 normal and transport category rotorcraft.
Under this FAA installation authorization, the iFDR Panel Mounts and USB Power Supplies may be installed as a minor alteration for Part 23, 27, and 29 aircraft. This covers installation in all General Aviation aircraft of 12,500 lbs maximum takeoff weight or less. It also includes all normal and transport category rotorcraft.
With this authorization, any General Aviation aircraft owner may legally add a panel mounted iPad or iPhone, USB Power Supply, or a combination of both as a means to enhance situational awareness and safety in their older certified aircraft. By eliminating cumbersome yoke or arm mounts for iPads and iPhones and the resulting mess of power cables and patched-together power supplies using existing 12V lighter plugs, certified aircraft owners now have cleaner and safer mount and power options for their cockpit.
"We were delighted to be the first to work with the FAA on implementing a NORSEE installation approval process as part of their AIR 2015 roadmap to develop new ways to increase safety and value for the General Aviation certified aircraft community" noted Ash Vij, President of Guardian Avionics. "We believe this is an important step in keeping GA safer for everyone while keeping ownership and maintenance costs under control for equipment that improves the environment for the pilot in older aircraft."
The Guardian Avionics NORSEE letter of authorization may be found at: http://guav.co/approval.
The entire line of approved iFDR Panel Mounts for iPad and iPhone are now available as both single dock mounts and as packages with the approved iFDR Power 150-301 power supply included. Pilots and owners may also order any of the line of approved iFDR Power USB Power Supplies from GuardianAvionics.com or through authorized dealers and distributors.
Authorized Products:
iFDR Panel Mount for iPad Pro 12.9-in (p/n IPP-100)
iFDR Panel Mount for iPad Air / Pro 9.7-in (p/n IPA2-100)
iFDR Panel Mount for iPad Mini (p/n IPM-100)
iFDR Panel Mount for iPhone 6+/6S+/7+ (p/n IP6+100)
iFDR Panel Mount for iPhone 6/6S/7 (p/n IP6-100).
iFDR Power 150-101 Single USB Panel Power Supply (p/n 200-101B)
iFDR Power 150-201 Single USB Remote Power Supply (p/n 200-201B)
iFDR Power 150-301 Single USB Power Supply for Mount (p/n 200-301B)
iFDR Power 250-101 Dual USB Panel Power Supply (p/n 200-101A)
iFDR Power 250-201 Dual USB Remote Power Supply (p/n 200-201A)
iFDR Power 250-301 Dual USB Power Supply for Mount (p/n 200-301A)
About Guardian Avionics – Based in Tucson, Arizona and established in 1999, Guardian Avionics / CO Guardian is a leading provider of Carbon Monoxide detectors, iPad/iPhone panel mounts, USB power supplies, and connected cockpit solutions for General Aviation ranging from portable units to FAA TSO certified models. Guardian Avionics products are featured as standard safety equipment for new aircraft from OEMs including Cessna Aircraft Company, Cirrus Aircraft, Piper Aircraft, Diamond Aircraft Industries, and Beechcraft Corporation. For more information, please visit www.GuardianAvionics.com or contact by phone at 520-889-1177.

Save