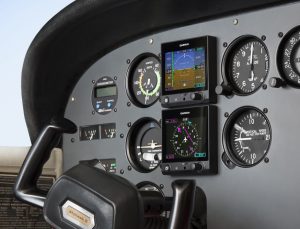 Garmin announced it has received Federal Aviation Administration (FAA) and European Aviation Safety Agency (EASA) approval of additional G5 electronic flight instrument capabilities, including the installation of G5 in place of an existing directional gyro (DG) or horizontal situational indicator (HSI) in select certified fixed-wing general aviation aircraft.
When paired with select VHF NAV/COMMs or GPS navigators, the G5 can be considered primary for displaying magnetic heading, VOR/LOC guidance and/or GPS course guidance, as well as distance and groundspeed. The installation of dual G5 electronic flight instruments can also eliminate the dependency on a failure-prone vacuum system in aircraft for attitude and heading information.
Garmin has also completed an amendment to the existing G5 supplemental type certification (STC) that allows certificated aircraft owners to mount the G5 flush with their instrument panel. Additionally, utilizing the new GAD 29B adapter, the G5 electronic flight instrument is also now compatible with a wide range of third-party autopilots.
EASA approval of G5 as a DG/HSI
Comprising of a bright, 3.5-inch sunlight readable liquid crystal display (LCD), the G5 electronic flight instrument is approved for installation in place of the aircraft's existing DG/HSI via a Garmin-held STC for hundreds of certificated fixed-wing aircraft models. Utilizing the new cost-effective magnetometer, the G5 electronic flight instrument displays magnetic heading. A dedicated rotary knob allows pilots to easily select and adjust course and make heading bug selections. Suitable for installation in place of a standard 3-1/8-inch (79 millimeters) flight instrument, the G5 measures 3-inches (76 millimeters) in depth with the back-up battery so it can easily be integrated into a wide range of aircraft. The G5 electronic flight instrument is also approved for flight under VFR and IFR conditions.
When paired with the GTN 650/750, GNS 430W/530W, non-WAAS GNS 430/530 or GNS 480 navigators, the G5 is approved as a primary source to display vertical and lateral GPS/VOR/LOC course deviation when available, as well as groundspeed and distance to the next waypoint1. In a G5 configuration that is paired with the GNC 255 or SL 30 NAV/COMM radio, the G5 is approved as a primary source to display lateral and vertical course deviation2 when available. Additionally, a single magnetometer is capable of supplying magnetic heading information to two G5 electronic flight instruments simultaneously.
The G5 electronic flight instrument offers a wide range of flexible panel configuration options, along with the reliability associated with a modern electronic flight instrument. Installation configurations vary as up to two G5 displays can be incorporated into a single aircraft panel in several approved combinations, including the attitude, DG/HSI or turn coordinator positions.
In dual installations, a secondary G5 can revert to display attitude information in the unlikely event of a failure in the primary attitude indicator position. A pilot-selectable menu on the G5 DG/HSI enables the manual selection and interchange between the attitude indicator and DG/HSI display. Each G5 is also paired with a four-hour back-up battery for use in the event of an aircraft electrical system failure. In dual G5 configurations, customers receive dual ADAHRS and dual back-up batteries, offering safety-enhancing redundancy.
Third-party autopilot compatibility for FAA and EASA-registered aircraft
Utilizing the new GAD 29B adapter, the G5 DG/HSI can interface with a variety of autopilots to provide heading and course error to drive the autopilot. With a compatible navigation source, the G5 can also interface with select autopilots for coupled flight in heading and navigation modes. Additionally, when interfaced with a GTN 650/750 or GNS 430W/530W, the G5 can provide GPSS roll steering navigation from the navigator to the autopilot. Pilots can simply select GPSS on the G5 and heading mode on the autopilot and the autopilot will fly smooth intercepts, holding patterns, procedure turns and more.
Garmin and third-party autopilot support includes the following autopilots:
Century I/II/III
Century IV (AC), IV (DC)
Century 21/31/41
Century 2000
Cessna 300B, 400B
Garmin GFC 600
Honeywell (Bendix King) KAP 100/150/200
Honeywell (Bendix King) KFC 150/200
Honeywell (Bendix King) KAP 140
Honeywell (Bendix King) KFC 225
S-TEC 20/30/40/50/55/60-1/60-2/65
S-TEC 55X
The G5 electronic flight instrument is FAA and EASA certified and is available immediately for installation in hundreds of certified fixed-wing aircraft models. The G5 DG/HSI electronic flight instrument for certificated aircraft can be purchased through the Garmin authorized dealer network starting at $2,449 USD, which includes the install kit, magnetometer, back-up battery and the STC.
When interfaced with a compatible GPS navigator, the G5 DG/HSI electronic flight instrument is available with the GAD 29B adapter starting at $2,975 USD. The G5 is also supported by Garmin's award-winning aviation support team, which provides 24/7 worldwide technical and warranty support. For additional information, visit: www.garmin.com/aviation.
Requires GAD 29B and GMU 11 magnetometer.
Requires the GMU 11 magnetometer.