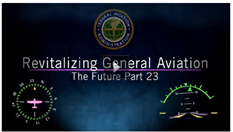 WASHINGTON – On March 9, 2016, the U.S. Department of Transportation's Federal Aviation Administration (FAA) proposed a rule that overhauls the airworthiness standards for small general aviation airplanes. The FAA's proposal, which is based on industry recommendations, would reduce the time it takes to get safety enhancing technologies for small airplanes into the marketplace while also reducing cost.
"This proposal would improve safety, reduce costs, and leverage innovation to ensure the highest level of safety is designed and built into small airplanes," said U.S. Transportation Secretary Anthony Foxx. "General aviation is vital to the U.S. economy, and this proposal would benefit manufacturers, pilots, and the general aviation community as a whole."
The Notice of Proposed Rulemaking (NPRM) restructures the existing certification standards and replaces the current prescriptive design requirements in Part 23 with performance-based standards that maintain the same level of safety. It would add new certification standards to address general aviation loss of control accidents and in-flight icing conditions. The proposal establishes performance- and risk-based divisions for airplanes with a maximum seating capacity of 19 passengers or less and a maximum takeoff weight of 19,000 pounds or less.
"This proposal would streamline how we approve new technologies for small piston-powered airplanes all the way to complex high-performance executive jets," said FAA Administrator Michael Huerta. "The FAA's collaboration with industry and international partners reflects a performance-based, flexible approach which would accommodate today's rapidly changing aviation industry and technological advances now and in the future."
The proposal responds to the FAA Modernization and Reform Act of 2012 and the Small Airplane Revitalization Act of 2013, which directed the FAA to streamline the approval of safety advancements for small general aviation aircraft. It also addresses recommendations from the FAA's 2013 Part 23 Reorganization Aviation Rulemaking Advisory Committee.
The FAA estimates that the overall economic impact would be cost beneficial and this proposal would affect airplane manufacturers, engine manufacturers, and operators of affected equipment.
A video entitled "Revitalizing General Aviation: The Future Part 23" highlights the benefits of the proposed rule. This video is located on the FAA website. Upon publication in the Federal Register on March 14, the NPRM will be open for comments for 60 days.
EAA, AOPA and NATA respond to FAA Proposal
"EAA put in tremendous work to make sure recreational aviation has a framework to grow and thrive in this legislation. We wanted to make sure that this was a bipartisan measure that can move forward in Congress and give the FAA what it needs in the way of stable funding while supporting our freedom of flying. Our thanks to Senate Commerce Chairman John Thune (R-South Dakota), Ranking Member Bill Nelson (D-Florida), and lawmakers on both sides of the aisle who worked together to make this happen in a collaborative and bipartisan fashion."
 – Jack Pelton, EAA CEO/Chairman
"We're pleased that the Senate is keeping FAA reauthorization legislation moving. Past experience has shown that limping along from extension to extension—sometimes for years—can really slow important long-term initiatives. This bill would give the FAA a way forward while addressing many of the big issues that matter to the general aviation community, including third class medical reform and aircraft certification reform."
   – Jim Coon, AOPA senior vice president of government affairs
"NATA thanks the members of the Commerce Committee for their swift, bipartisan action on this important legislation. The Committee's ability to move forward in such an expeditious manner is a testament to the hard work of Chairman Thune, Ranking Member Nelson and their staffs. We strongly support the legislation's approach to making the FAA and its programs more effective and hope the full Senate will take up and approve this legislation in April."
                                                                                  – Thomas L. Hendricks, NATA President and CEO