Mike Disbrow, president of Hartzell Engine Technologies announced that the company is offering Cessna and Piper aircraft owners a $150 trade-in credit on legacy Chrysler and Ford alternators when they upgrade to a new-generation Plane-Power alternator until March 31, 2017.
The new Plane-Power alternators for Cessnas and Pipers are smaller and lighter with dual fans and a longer-life brush design, which means these new alternators run cooler and last longer on the aircraft than any overhauled legacy unit.
"Along with the improved performance, the new Plane-Power alternators come with a full, two-year factory warranty," he said. "Overhauled units come with one-year coverage at best and it's often less than that." As stated by Mike Disbrow.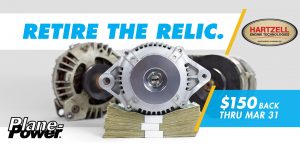 To qualify for the $150 trade-in credit, an aircraft owner needs to purchase the appropriate Plane-Power alternator conversion kit from www.aircraftspruce.com and complete the online form at: www.PlanePower.com/GetCash
For more information, please contact Aircraft Spruce at 1-877-477-7823 or 951-372-9555 and reference Plane-Power.
Aircraft Spruce's complete product line is available at www.aircraftspruce.com.  Request your complimentary copy of the company's free 1100+ page catalog (available in print, CD, or PDF formats).