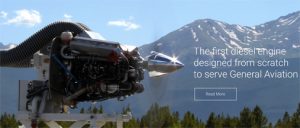 Engineered Propulsion Systems (EPS) of New Richmond, Wis., expects to earn FAA Certification Approval by the end of this year for their Graflight Flat 8 diesel engine and expect to have a production line operating early in 2018. Initially, they will be producing engines for OEMs, but plan to begin developing STCs in parallel with that activity for the retrofit market.
In an effort to determine which three aircraft should be selected first for STCs, they are appealing to pilots around the globe for an indication of interest. Any pilot/owner currently flying a single or twin engine aircraft with powerplants in the 320 to 420 horsepower range could be a candidate for a diesel retrofit.
EPS has created a page for those aviators on their website, EPS.aero, to measure STC interest levels. The questionnaire is located under the STC tab on the Home Page. Pilots who participate are under no obligation and the company is not taking any deposits at this time.
"If someone is looking at replacing or overhauling their engine in the next year, and they are at least contemplating a new, efficient diesel engine, we'd like to hear from them," said Michael Fuchs, CEO of EPS. "The responses, or indications of interest, could determine the first few aircraft types and models we select for developing an STC. Certainly, a high interest level in any particular model will have a bearing on our initial STC selections."
For more information please visit EPS.aero, or email: info@EPS.aero.