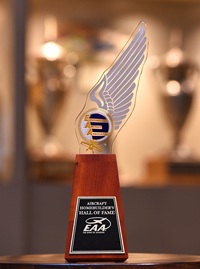 The Experimental Aircraft Association will recognize the contributions made to the world of flight by five people as they will be inducted into the EAA Sport Aviation Halls of Fame on November 9 during a ceremony at the EAA Aviation Center in Oshkosh, Wisconsin.
The five inductees represent a spectrum of aviation within the EAA community and have achieved notable successes within their particular realm of flight:
EAA Homebuilders Hall of Fame: Rob Hickman of Canby, Oregon
International Aerobatic Club Hall of Fame: Frank Christensen of Wilson, Wyoming
Warbirds of America Hall of Fame: Clarence E. "Bud" Anderson of Auburn, California
EAA Ultralight Hall of Fame: Mary Jones of Oshkosh, Wisconsin
Vintage Aircraft Association Hall of Fame: Jim Moss (posthumous)
The EAA Sport Aviation Halls of Fame were established to honor the outstanding achievements of men and women in aviation who share the spirit of EAA and its community. Those inducted into the hall of fame are selected by their peers for myriad contributions made to their respective areas of aviation.
In addition, Lon Nanke of Oshkosh will receive the Henry Kimberly Spirit of Leadership Award for his efforts on behalf of EAA and the local community. Nanke, a World War II veteran, has been a longtime EAA Aviation Museum docent and has taken the lead as a volunteer for numerous museum programs.
Tickets for the induction banquet and ceremony are available at www.eaa.org/HallOfFame.
EAA HALLS OF FAME 2017 INDUCTEES
HOMEBUILDERS HALL OF FAME
Rob Hickman (EAA 424007): Hickman used his own electrical engineering training and homebuilding experience to devise an engine monitoring system, which grew into his Advanced Flight Systems business and eventually, to innovations that brought color-screen technology to homebuilt aircraft as well as control panels that eliminate much of the time-consuming wiring previously needed to build an airplane.
His company has evolved from a dining room-table pastime to a full company that is highly regarded throughout the aviation industry.
VINTAGE AIRCRAFT ASSOCIATION HALL OF FAME
Jim Moss (EAA 477508 – posthumous): The Indiana native and longtime resident of Buckley, Washington, became known for his re-creations of historic aircraft as well as innovative creations that involved legendary airframes. Beginning with the MG-2 radial engine biplane, Moss quickly became renowned for projects such as the precise replica of the 1931 Laird/Doolittle Super Solution and the Gee Bee Q.E.D.
Moss died in January 2015.
INTERNATIONAL AEROBATIC CLUB HALL OF FAME
Frank Christensen (EAA Lifetime 36663): Christensen changed both the aerobatic and kit aircraft communities in 1977 with the introduction of the Christen Eagle, a fully aerobatic biplane that also set the gold standard for homebuilt aircraft kits. The Christen Eagles became famous as the aircraft used by the legendary Eagles Aerobatic Team in its air show performances for 25 years.
Christensen was also an outstanding aerobatic competition pilot, winning the Advanced category title at the 1969 U.S. National Aerobatic Championships.
ULTRALIGHT HALL OF FAME
Mary Jones (EAA 224626): Jones was an advocate for the ultralight and light aircraft communities over her more than 30-year career with EAA's publications. As editor of EAA publications such as Sport Aviation and Experimenter, Jones was able to convey the excitement and joy of "low and slow" flying that was fun and affordable for thousands of aviation enthusiasts.
Her efforts as part of the team focused on a solution to the "fat ultralight" issue, through the FAA's Aviation Rulemaking Advisory Committee (ARAC), helped to establish and clarify today's sport-pilot regulations.
WARBIRDS HALL OF FAME
Clarence E. "Bud" Anderson (EAA 563333): Anderson is one of World War II's legendary aces with the famed 357th Fighter Group in England, scoring 16-¼ air combat victories over more than 100 missions. He later became a test pilot and chief of flight test operations at Edwards Air Force Base in California. Anderson also commanded an F-105 fighter wing during the Vietnam War before retiring from active duty in 1972.
Anderson has also been a longtime volunteer with the EAA Warbirds of America, annually sharing his flight experiences with large audiences during the Warbirds in Review sessions at EAA AirVenture Oshkosh.
INDUCTEES – EAA HALL OF FAME
HOMEBUILDERS
1993: Paul Poberezny, S.J. "Steve" Wittman, George Bogardus
1994: Bernie Pietenpol, Bob Burbick, Ray Stits
1995: Tony Bingelis, Molt Taylor, John Thorp
1996: Sam Burgess, Nick D'Apuzzo, Ed Heath, Volmer Jensen
1997: Ladislao Pazmany, William Ghan, Harold Best-Devereux
1998: Curtis Pitts, Burt Rutan, Bill Warwick
1999: Henri Mignet, Richard Van Grunsven, Chris Heintz
2000: Jean Delemontez, Leslie Long
2001: John Monnett
2002: Jack Cox, Ken Brock
2003: William Chana
2004: Bob Whittier, Pete Bowers
2005: Robert Bushby
2006: Edgar Lesher, B.J. Schramm
2007: Randy Schlitter
2008: John W. Dyke
2009: Lance A. Neibauer
2010: Dean Wilson
2011: Ed Fisher
2012: Wes Schmid
2013: Phillip J. Lockwood
2014: George Pereira
2015: Tom Hamilton
2016: Jim Bede
2017: Rob Hickman
INTERNATIONAL AEROBATIC CLUB
1987: Jose Luis Aresti, Duane Cole, Curtis Pitts, Frank Price
1988: Marion Cole, Mike Murphy, Betty Skelton
1989: Robert L. Heuer, Beverly Howard, Harold Krier
1990: Lincoln Beachey, Bob Herendeen, Charlie Hillard, Art Scholl
1991: Leo Loudenslager, Mary Gaffaney
1993: Neil Williams, Clint McHenry
1998: Bill Barber, Rodney Jocelyn, Tex Rankin, Harold Neumann, Tom Poberezny
1999: Henry Haigh
2000: Gene Beggs
2001: Mike Heuer
2002: Bill Thomas, Bob Davis
2003: Don Taylor
2004: Betty Stewart, Dorothy Hester
2005: Patty Wagstaff
2006: Gene Soucy
2007: Debby Rihn-Harvey, Bill Kershner
2008: William B. "Bill" Finagin
2009: Robert A. "Bob" Hoover
2010: Jimmy Franklin
2011: Tony LeVier
2012: Giles Henderson
2013: William Joseph "Bill" Adams
2014: Sammy Mason
2015: Sean D. Tucker
2016: Robert Armstrong
2017: Frank Christensen
VINTAGE AIRCRAFT ASSOCIATION
1993: E.E. "Buck" Hilbert, George York
1995: Cole Palen, Kelly Viets, Joe Juptner
1997: Paul Poberezny, Ann Pellegreno, Jim Younkin, Harold Armstrong
1999: Gene Chase, Edward C. Wegner, Tom Flock
2000: Jack Cox
2001: Dr. Roy Wicker, Ted Koston
2002: John M. Miller
2003: Al Kelch, Nick Rezich
2004: Espie "Butch" Joyce
2005: Richard Knutson, Charlie Nelson
2006: Charles W. Harris
2007: Chet Peek
2008: Bill Pancake
2009: Stephen Pitcairn
2010: Morton Lester
2011: John W. Underwood
2012: Clyde Smith Jr.
2013: Susan Dusenbury
2014: Timothy Talen
2015: Dale "Gus" Gustafson
2016: Phil Coulson
2017: Jim Moss
WARBIRDS OF AMERICA
1995: Paul Poberezny, Walt Ohlrich, John Baugh, Bill Harrison, Jerry Walbrun
1996: Dick Dieter, Charlie Nogle
1997: Sue Parish, Rudy Frasca, Jeff Ethell
1998: John Ellis, Randy Sohn
1999: William Dodds, Richard Ervin
2000: Dave Schlingman
2001: Lincoln Dexter, Edward Maloney
2002: Frank C. Sanders
2003: Chuck Doyle, Lloyd Parker Nolen
2004: Howard Pardue
2005: Kermit Weeks, Steve Hinton
2006: Jack Harrington, Daryl Lenz
2007: Wilson "Connie" Edwards
2008: Connie Bowlin
2009: George H. Baker
2010: Harold D. "Hal" Weekley
2011: David B. Lindsay Jr.
2012: Preston (Pete) Parish
2013: Lee Lauderback
2014: Jay Wisler
2015: Nelson Ezell
2016: Doug Champlin
2017: Clarence E. "Bud" Anderson
ULTRALIGHT
1999: Homer Kolb, John Moody, Chuck Slusarczyk
2000: Boris Popov, Wayne Ison
2001: Mike Sacrey
2002: John Chotia, Tom Peghiny
2003: Mike Jacober
2004: Klaus Hill, Bert Howland
2005: Larry Mauro
2006: Bob Lovejoy, Volmer Jensen
2007: Mike Markowski
2008: Mike Loehle
2009: Roy Pinner
2010: John Ballantyne
2011: Jack McCornack
2012: Taras Kiceniuk Jr.
2013: Frank Beagle
2014: Lowell Farrand
2015: Leonard Milholland
2016: Tracy Knauss
2017: Mary Jones
About EAA – EAA embodies The Spirit of Aviation through the world's most engaged community of aviation enthusiasts. EAA's 200,000 members and 900 local chapters enjoy the fun and camaraderie of sharing their passion for flying, building and restoring recreational aircraft. For more information on EAA and its programs, call 800-JOIN-EAA (800-564-6322) or go to www.eaa.org. For continual news updates, connect with www.twitter.com/EAA.