Charter College Now Offering Aviation Degrees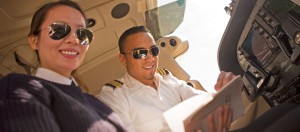 Oxnard, CA (September 22, 2015) – Charter College is partnering with select Part 141 Flight Schools to help aspiring pilots take to the skies more efficiently and with better training. The flight schools will offer ground school and general flight instruction, and Charter College will provide students with the aviation and general education courses to prepare them to earn their FAA licenses and seek entry-level employment as commercial pilots or flight instructors.
The partnership will begin with these established flight schools. More locations will be announced as partnerships are finalized.
California
Florida
Nevada
Texas
Virginia
JLS Aviation, Fredericksburg
Washington
The partnership between Charter College and Part 141 flight schools offers aviation students a number of benefits they wouldn't have with a traditional flight school:
An aviation degree that will open up more doors in the field
Traditional Title IV Financial Aid in the forms of federal student loans and Pell Grants for those who qualify
Access to an experienced financial aid team
Access to student academic support programs and Charter College Student Advisor Team
Focused career training
For the Associate of Applied Science in Aviation: Rotor and Fixed Wing programs, students will take nine aviation courses including: Commercial Aviation, Navigation, Aerodynamics, Meteorology, Safety, Law, Aircraft System and Components, Physiology and Crew Resource Management, in addition to general education courses necessary to earn an Associate of Applied Science Degree. The fixed wing program includes 250 flight hours, and the rotor program includes 210 flight hours.
The Demand Is There
Industry leaders are predicting continued strong growth in aviation careers — from pilots to maintenance technicians for aviation companies. According to information provided in Boeing's Long-Term Market report, between 2015 and 2034, "the world's aviation system will require 558,000 new commercial airline pilots and 609,000 new commercial airline maintenance technicians."
Details on Charter College's aviation program are available at http://chartercollegeaviation.com/ or by calling 877-862-3484.
Charter College

i

s a private, independent institution of higher education, providing students with a career-focused education in growing job fields that include health care, business, information technology, the legal field, aviation and select trades. Charter College operates college campuses in California, Washington State, Alaska and operates online program. For more information, visit

http://www.chartercollege.edu