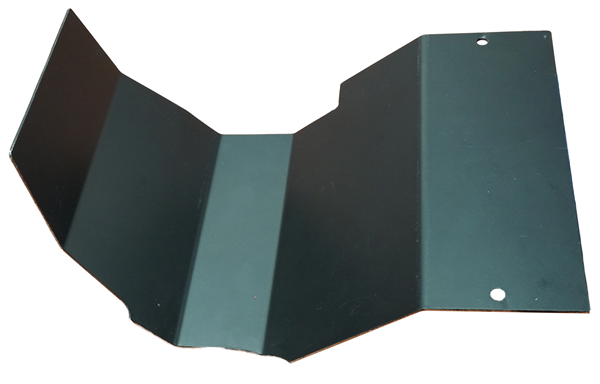 Airforms, Inc. announced it has been awarded FAA PMA approval for engine mount isolator heat shields for the Cessna C206/207/210 family of aircraft (Continental powered). The aluminum construction of the heat shields absorbs less heat than steel, and a ceramic powder coating on one side inhibits heat transfer to the flexible isolators.
According to company officials there is a sizeable fleet of 1986 and prior Cessna 206's as well as 207's and 210's that increasingly benefit from additional aftermarket PMA support. They further state that these new heat shields are an affordable replacement for the heat shields on these aircraft, and provide a high level of heat protection, extending the service life of the engine mount isolators at a great price.
The heat shield– part number AF1250918-2 – is a direct replacement for Cessna part number 1250918-2, and there are four per aircraft. The shields can be purchased separately, or at a discounted price if all four are purchased in a kit.
Airforms, Inc. awarded new FAA STC approval for Cessna 208/208B Passenger Airstair Step
Adding to their growing list of FAA Approved products available in support of the world's Cessna Caravan fleets, Airforms, Inc. has announced FAA STC approval for part number AF2617076-1.  This component is a step approved to replace any one of the three Cessna steps in the passenger airstair door on both the C208 & C208B models.  The step is a direct replacements for Cessna P/N's 2617076-1, 2617076-10 or 2617076-11.  Airforms step is engineered for increased longevity and is constructed solely from aluminum to eliminate the incidence of delaminating operators experience with the OEM steps.
Airforms' Engineer Robert Ray explains, "We have been in contact with a number of Caravan fleet operators that for some time have struggled with the need for frequent replacement of the steps on the passenger airstair door, and they have requested a solution.  Our new Passenger Step is of all aluminum construction and can withstand significantly more weight than the original, is more resilient to weather, and will have a longer service life – at a price point that provides real value in the industry.  In addition, having a single part number that can replace any one of the three OEM part numbers allows operators to keep their spares inventory cost in check."
Airforms is the world's leading supplier of replacement engine baffles for a wide range of general aviation aircraft; products also include an expanding line of turboprop aircraft PMA parts, STCs, and hard to source parts for fleet operators.  Airforms maintains an FAA approved manufacturing system for PMA parts, supported by an in-house engineering department.
For more information, including a secure online marketplace and catalog, visit www.airforms.biz.  Airforms operates from 7 AM to 7 PM CST business days and can be reached directly at 907-892-8244.