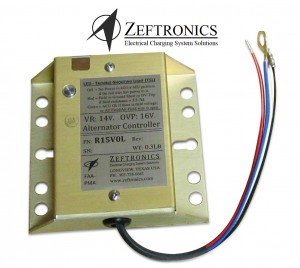 The R15VOL Alternator Controller Unit provides high-voltage regulation, over-voltage protection, field-to-ground short protection, and an on-unit troubleshooting light.
A perfect fit for aircraft owners and mechanics, the 14V R15VOL Alternator Controller will make it easy to identify if power is getting to the Alternator Control Unit. The R15VOL simplifies electrical charging system wiring while reducing troubleshooting time and improving the operation of the alternator system.
For more information, please contact Aircraft Spruce at 1-877-477-7823 or 951-372-9555, and reference part number 07-17988 for the 14-volt unit and 07-17989 for the 28-volt unit.
Aircraft Spruce's complete product line is available at www.aircraftspruce.com. Request your complimentary copy of the company's free 1000+ page catalog (available in print, CD, or PDF formats).