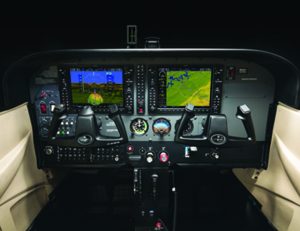 On January 4, 2017, Textron Aviation Inc. announced it has introduced the next generation Garmin G1000 NXi integrated flight deck to its piston product line, including the Cessna Skyhawk 172, Cessna Skylane 182, Cessna Turbo Stationair HD T206, Beechcraft Bonanza G36 and the Beechcraft Baron G58. The state-of-the-art avionics system has received Federal Aviation Administration (FAA) certification for Textron Aviation piston aircraft and deliveries are expected to commence soon.
"We are thrilled to have teamed with Garmin to introduce the next generation of the world-renowned G1000 flight deck to our class-leading piston products. This is yet another example of our commitment to investing in the piston product line and ensuring our customers have access to the latest technology," said Doug May, vice president, Piston Aircraft. "These enhancements will not only improve pilot workload, they will enhance the overall flight experience by providing a more connected, efficient and modern cockpit."
The G1000 NXi platform incorporates leading cockpit technologies to bring customers the latest in performance enhancements. Features include significant flight display modernization with faster processing times, improved graphics rendering and enhanced readability with LED back-lighting.
Capability improvements include map overlay on the HSI, improved FMS capabilities to include visual approaches, standard ADS-B in and out, the ability to view VFR and IFR charts on the moving map, animated Sirius XM weather depiction and more. Optional enhancements offer wireless database updates and flight plan uploads with Flight Stream and enhanced runway situational awareness that can help pilots avoid runway incursions with SurfaceWatch.
Textron Aviation's factory-direct piston training team will provide customers a seamless transition into their new G1000 NXi aircraft. The combination of the company's leading piston platforms, the latest cockpit technologies, comprehensive factory-direct training expertise and a growing network of dedicated authorized service facilities around the world provide customers an excellent value proposition throughout the entire aircraft ownership experience.
About Textron Aviation Inc. – Textron Aviation Inc. is the leading general aviation authority and home to the Beechcraft, Cessna and Hawker brands, which account for more than half of all general aviation aircraft flying. Textron Aviation has decades of unmatched experience in designing, building and supporting airplanes. It provides the most versatile and comprehensive general aviation product portfolio in the world through five principal lines of business: business jets, general aviation and special mission turboprop aircraft, high performance piston aircraft, military trainer and defense aircraft, and a complete global customer service organization. Its broad range of products include such best-selling aircraft as Citation and Hawker business jets, King Air and Caravan turboprops and T-6 military trainer aircraft, all of which are backed by the industry's most capable global service network. For more information, visit www.txtav.com