By Rob Garrett
The passion for flight had always been in our family as my father flew corporately for a local manufacturing company in a light twin-engine airplane. His dream for me was to become a career airline pilot. As such, I remember flying with him at age 3 or 4 in a Taylorcraft he owned and flew from our Ohio beef farm. It didn't start well — I remember crying with the roar of the engine and raindrops spitting on the windscreen, too small to see out and scared to death.
Fast forward to January 1972 when I started my primary flight training. It was a slow process beginning in January and attempting to fly in northeast Ohio. I actually learned to fly backwards on my first lesson when the concept of "slow flight" was demonstrated. With a 45-plus knot winter headwind we were backing up from the cars traveling on the ground below. Clouds, wind, and snow aside, I earned my private pilot certificate on February 18, 1973.
To further my competencies and obtain the FAA commercial and instrument ratings, my dad was in search of an airplane. At the recommendations of the local airport experts, we were connected with the owner of N3509U. This 1963 Cessna 182F model was 11 years old with less than 1,000 hours total time and in pristine condition.
Following completion of the sale I began my "complex aircraft" lessons with local instructors with a lot of "hood time" to obtain my instrument rating. My dad and I made numerous cross-country trips to build time and see distant places such as dropping off golfing friends in North Carolina or flying to Put-in-Bay, Ohio, for weekends on Lake Erie. 
Upon my graduation from college, my father sold the airplane as I started my aviation career working for numerous airplane manufacturers. I will refer to this period as a series of part-time jobs based on the fact that none of them could operate profitably and usually ended in closure. Not until 1994 when I joined FlightSafety International in a sales capacity did I find a home for the next 26 years. During this time period while constantly reading aviation magazines, I wanted to be one of those people featured who owned their own airplane.  
After 9/11, I frequented the FAA website for work verifying pilot's full names for TSA purposes. I would type in N3509U to see if the airplane was still airworthy and to determine who its current owner was. This exercise went on for more than 3 years until, finally, I built up the courage and tracked down the current owner's phone number and made the call. 
Turns out I was calling the hospital I was born in and speaking to the owner who had operated the airplane for the past 12 years. He had unfortunately lost his medical and wanted the airplane to go to a good home. It was perfect timing. Flight schools were calling inquiring to purchase N3509U, but the owner knew in a rental fleet the airplane would not be treated with the fondness and affection that he gave it. 
So, I bought an airline ticket to Cleveland and was reconnected with a long-lost love. Seeing the airplane after 40 years provided a déjà vu moment and I had to pinch myself to know that this was really real.  
We then sat down, reviewed the logbooks, and did the deal. I use the analogy of looking at puppies — at this point, no matter what, you are going to take one home! 
Several weeks later, I returned to pick up the airplane and fly home to Fort Worth, Texas. It was a tearful farewell, the owner running his hand along the leading edge of the wing as he had done countless times before, removing smattered bugs, signaling one final goodbye.
Upon arrival I started the rebuilding/updating process. It began with a six-probe engine monitor, Vernier mixture control, LED strobe and landing lights, etc. Then came the annual inspection whereby it was determined that I had two dead engine cylinders and the other four at the minimum compression of 60 psi. Yes, I committed the cardinal sin of buying a pre-owned aircraft and not performing a pre-purchase inspection. I had no objective out-of-state mechanic there at the time and I trusted the logbooks. Always a big mistake and the reason for the rule! In fairness to the owner, I don't think he knew as he was only flying the airplane on an infrequent basis.
I have failed to mention that all through this entire process (i.e. expense) my lovely wife has been totally supportive. "As long as I have known you, you have always wanted to own an airplane," she said. "It's either now or never. So don't miss this opportunity!" Upon hearing this unfortunate news regarding our engine, she stated, "I don't do used parts!" So, at that point I called Continental Motors to order a factory new O-470-R engine. It was the proper decision since the existing one had undergone more than one overhaul over its 55-plus-year life.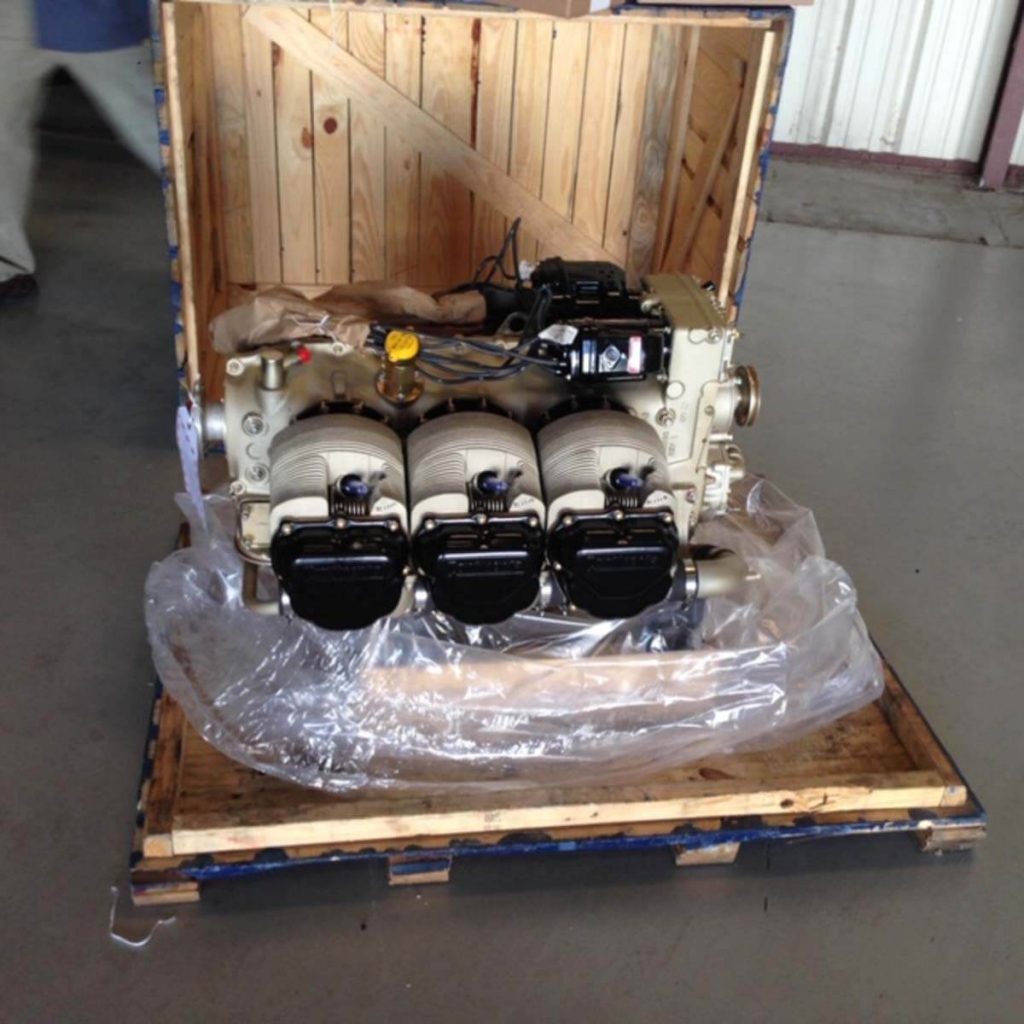 The list of new parts continued to expand: alternator, overhauled propeller, door seals, and a new avionics panel that included satellite GPS navigation. The new panel consists of an Aspen Pro 1000 with AOA and synthetic vision; Garmin GTN750 with Flightstream 510, GDL 88 for ADS-B compliance, and GTX 327 transponder; JP Instruments EDM 700 engine monitor; and a handheld comm splitter to connect with exterior comm antenna if I have loss of alternator and battery drain. The panel had been front seats; I'll replace them as needed. For creature comfort, I added an Arctic Air portable air conditioner for those 100-plus degree Texas summer days. The new paint scheme was designed by Conrad Kothman at Maverick Aircraft Designs. It sticks to the red-and-white that 3509U had when my dad bought it, but with a more modern look. 
At times the airplane was down for maintenance for months at a time in what seemed to be a neverending process to reach the final goal of a "new" 57-year-old airplane.
After a 4-year rebuild and 400 hours of flying in between, the process is complete.
Having been blessed with the skill to defy gravity and return to the ground safely along with the ability to afford this time machine, or as I call it Back to the Future II, 95% of its missions now are humanitarian.
I've completed 135 Angel Flights for cancer patients needing no-charge transportation to MD Anderson Hospital in Houston as well as CASA (Court Appointed Special Advocate) flights. I conducted several Hurricane Harvey flights dropping off diapers in Conroe, Texas. Everything from dog food to toilet paper was flown into Beaumont, Texas, and unloaded by the military. 
They say "things" don't buy happiness. In this case, I disagree. The secret of this Earthly experience is that we are here to help others. N3509U has done that with its new life. I am just glad I could be part of that.