Designed for General Aviation Aircraft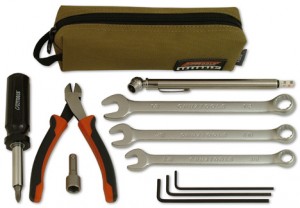 CruzTOOLS announced the SPEEDKIT Aero, a compact yet highly capable tool kit for General Aviation aircraft.
CruzTOOLS previously launched the PTK1 Tool Kit for pilots and aircraft owners who want the most comprehensive selection of tools and other items. It's particularly useful for those who assist in their aircraft's annual inspection. However, it may be too large or heavy for some applications.
The SPEEDKIT Aero is therefore a logical follow-on by providing significant capability in a compact pouch. Included are three combination wrenches (3/8", 7/16", 1/2″), three hex wrenches (5/64", 3/32", 7/64"), a 5-in-1 screwdriver, 11/32" nut driver bit, tire pressure gauge, and CruzTOOLS' very competent diagonal cutters that were developed to cut hardened steel guitar and bass strings. Everything is housed in a tough zippered textile pouch measuring only 7" x 2" x 2", with extra room for additional items as needed. The kit weighs less than one pound, and tools are professional-grade with a lifetime guarantee.
Enhancing appeal of the SPEEDKIT Aero is its modest retail price of $32.95.
"Our flagship PTK1 Pilot's Tool Kit has received favorable acceptance." stated Dan Parks, President of CruzTOOLS. "And as we've learned from our other markets, one tool kit does not address everyone's needs. The new SPEEDKIT Aero provides an alternate feature set and price point to help us meet overall requirements of the General Aviation marketplace."
CruzTOOLS provides highly functional tools and tool kits to the motorcycle, music product, and general aviation markets that are sold through retailers and wholesale distributors worldwide. For more information, please contact CruzTOOLS at 888-909-8665 or visit www.cruztools.com.