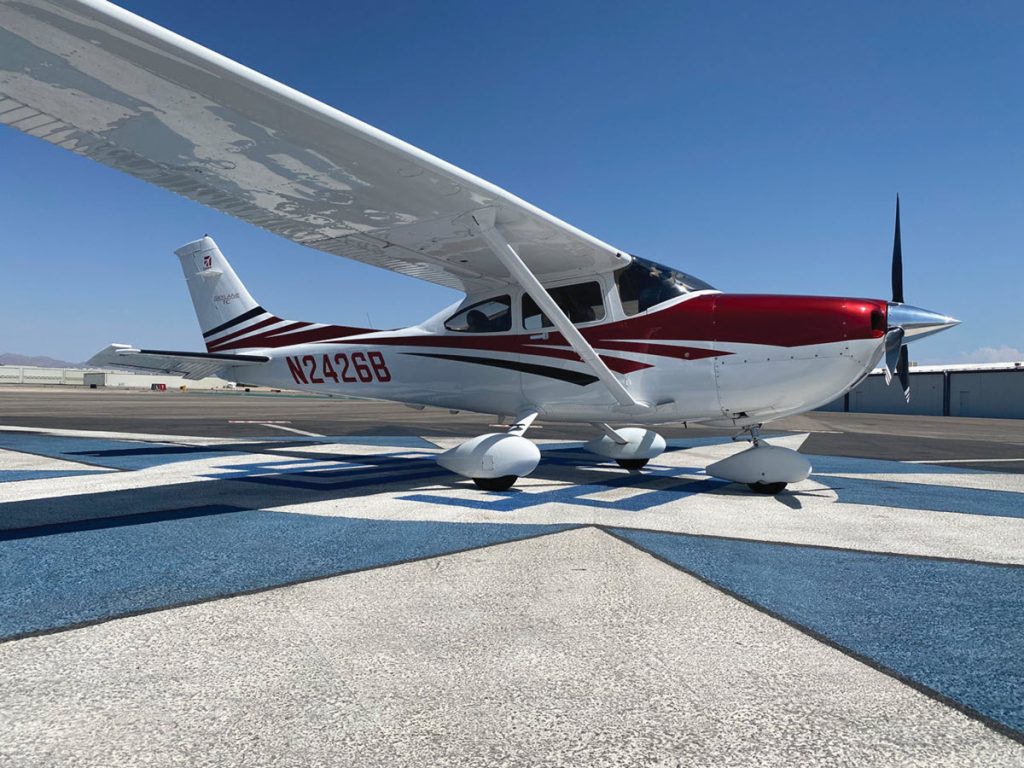 MORE READING
Visit cessnaowner.org/archive to read these articles.
Kevin Horrell Restoration Part 1: Interior & Panel, October 2022 issue.
172 Restoration Part 1: Disassembly & Paint by Elizabeth Gibbs, August 2022 issue.
Ceramic Coating Review, by member Paul Howey, May 2022 issue.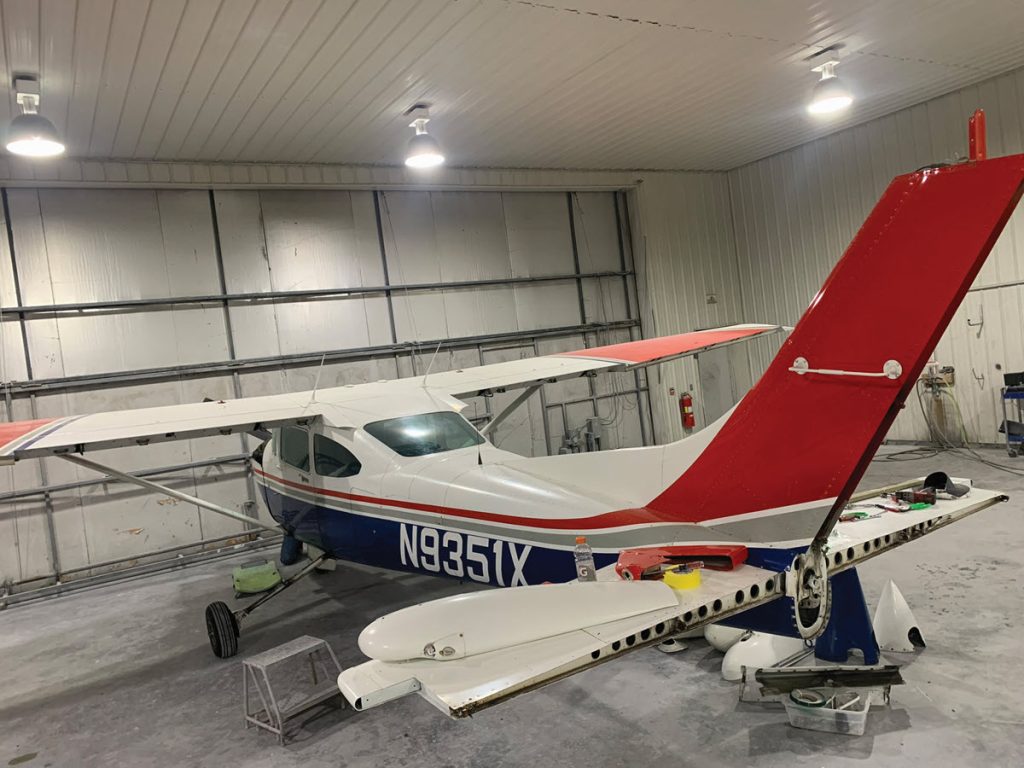 New Paint and JPI 830 Engine Monitor Upgrade
When Kevin Horrell purchased his 182 in August 2020, he factored the plane's condition into the price. "I knew it would probably need a new windscreen and a new paint job," he said. "The leading edge of the wings was pret­ty flaked. I had a body guy look at it before I made the decision to paint to see if it could be touched up. But as he walked around it, he said there were just too many things to touch up and that if I want it done right, the plane's going to require a paint job."
It took Kevin quite a while to find the paint scheme he wanted. "I looked at a bunch of pictures online of 182s, and then I narrowed it down to three or four, and then I narrowed it down to one. I found one that was painted almost identically to this one, and it was a much newer airplane, and I knew it was a more current paint job."
A Hard Lesson Learned
Kevin's next step was to find a shop to do the job. But the shop Kevin started with wasn't the one that eventually completed the work. "I should have gone to Cessna Owners Organization and asked for recommendations, but I didn't do that," Kevin said. "I had a recommendation from the local airport for a shop in Kan­sas, and I checked with them, but their lead time was way, way out there." Kevin decided not to wait until they were available, as it would be just too long.
"And then I looked online and found a really slick website for a shop. It had beautiful pictures and everything looked beautiful and I contacted that guy. So I started with that shop and had some Zoom calls with this guy. And he was considerably cheaper than everybody — significantly." But communication was lacking, and Kevin became concerned.
Eventually, he got an email from the shop owner that he was selling his business. Kevin made a trip to the shop and discov­ered his plane hadn't even been touched. In fact, he found out that there were other planes ahead of his that had been there for over a year and hadn't been started.
Upon learning the situation, Kevin was relieved that they hadn't started work on his plane because taking the plane to another shop with the job partially done would have made the transfer more complicated. He was able to cancel the contract with the loss of his nonrefundable deposit and brought his plane home to start the search over. "It was a lesson learned that a good website and a wonderful price doesn't necessarily mean that you're going to get what you're paying for.
Kevin then got three or four recommendations from the Cessna Owner Organization forum. He contacted Woodlake Aircraft Refinishing (woodlakeaircraft.com), in Sandwich, Illi­nois. Owner Bob Urso said he had just gotten a cancellation, so he had an opening, and Kevin settled on the company after carefully checking out the business, confident this time that he was leaving his plane in good hands.
Woodlake has been doing aircraft repairs, interiors, and paint for more than 30 years. Painting makes up a big part of its busi­ness because few owners have the ability and resources to take on a project of that scope themselves. A proper paint job is more time and labor intensive than most people realize, totaling 500 hours or more, Bob said. "It's about 200 hours just to strip a plane. Then to go through the paint process, with all laying out the striping and painting everything, that's another 300 hours plus, depending on the plane. So it's a lot of time involved."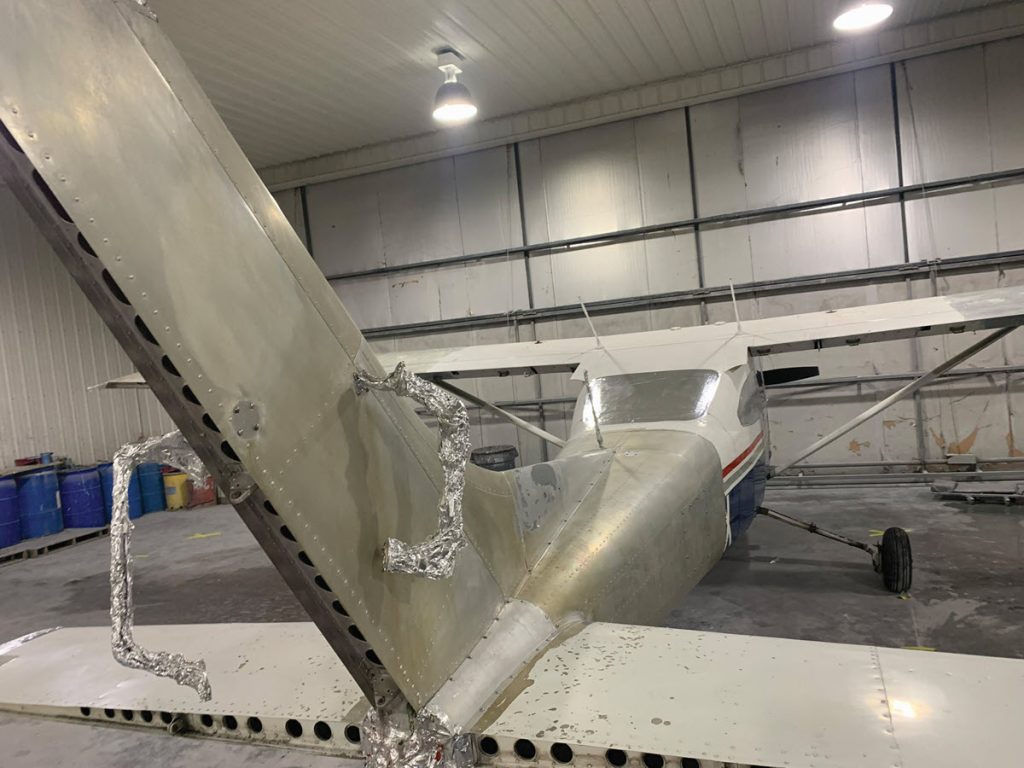 The rest of this article can be seen only by paid members who are logged in.
Have a website login already?
Log in and start reading now.
Never created a website login before?
Find your Customer Number (it's on your mailing label) and register here.
JOIN HERE
Still have questions?
Contact us here.