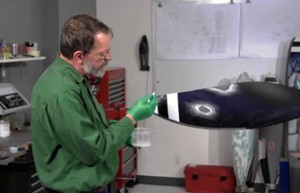 Hartzell Propeller has created a series of how-to videos and a new field repair manual describing how to evaluate and repair Hartzell's structural composite propeller blades when they suffer minor damage.
A true composite propeller is made from carbon fiber or Kevlar. "Unlike aluminum or wooden blades, Hartzell's composite propeller blades can be restored to their original dimensions over and over again. These materials are incredibly durable, but they are not entirely immune to damage," says Hartzell Technical Representative Kevin Ryan.
"Don't be concerned if you experience minor damage from debris, such as a stone nick, paint damage, or a lead edge impact," he says. "As with aluminum blades, composite blade damage can be evaluated and often repaired on-wing by a certified Airframe and Powerplant (A&P) mechanic using information provided by Hartzell."
Information on evaluation and repair of damage on Hartzell composite blades is provided to aircraft mechanics in Hartzell Composite Propeller Blade Field Maintenance and Minor Repair Manual 170 and the companion videos – both are available free on the Hartzell website at www.hartzellprop.com.
About Hartzell Propeller – Hartzell Propeller is the global leader in advanced technology aircraft propeller design and manufacturing for business, commercial and government customers. The company designs next generation propellers with innovative "blended airfoil" technology and manufactures them with revolutionary machining centers and robotics. With ASC-II™ composite technology, Hartzell delivers optimal performance, strength, and durability with carbon fiber blades.
Hartzell Propeller and its sister company, Hartzell Engine Technologies LLC, form the general aviation business unit of Tailwind Technologies Inc. The aerospace technology company also includes Hi-Tech Metal Finishing and Mayday Manufacturing. For more info on Hartzell Propeller go to hartzellprop.com.