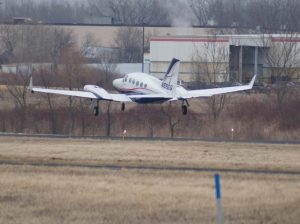 By Aircraft Owners and Pilots Association – www.AOPA.org
An airworthiness directive is scheduled to take effect February 28 requiring repetitive inspections of many models of Textron Aviation Inc. twin-engine airplanes for cracks in the left and right forward lower carry-through spar caps, replacing the spar caps if cracks are found, and reporting the inspection results to the FAA.
The FAA issued the AD, which affects model 401, 401A, 401B, 402, 402A, 402B, 402C, 411, 411A, 414, 414A, 421, 421A, 421B, 421C, and 425 airplanes, following a report of a fully cracked lower forward carry-through spar cap on a Textron Aviation 402C airplane (formerly a Cessna Aircraft Co. type certificate) caused by metal fatigue.
Although cracking was found only on the model 402C airplane, loads on the other models "are similar to (or higher than) the Model 402C airplanes. This condition, if not addressed, could cause failure of the carry through spar cap during flight and result in loss of control," the FAA said. The agency estimated that 2,147 U.S.-registered airplanes are affected by the AD.
The FAA noted that it considers the AD an "interim action," and may revisit the rulemaking after Textron Aviation evaluates the initial and repetitive inspection intervals, and designs a replacement lower carry-through spar cap "from an improved material."
The AD's costs are estimated at $1,020 per product per inspection cycle, or the fleet's total cost of about $2.2 million; and $73,000 per product for replacing a carry-through spar, if needed.
The initial inspection differs for airplanes that have more than 24,975 hours time in service (TIS) and those with less. For airplanes that have less than 24,975 hours TIS, compliance times differ slightly between affected models. For example, the compliance time for models 421B and C airplanes is before the accumulation of 12,000 hours TIS or within the next 50 hours TIS after Feb. 28, 2018, whichever occurs later. For airplanes with more than 24,975 hours, the inspection is required within the next 25 hours. In all cases, if no cracks are found during the prescribed inspections, repetitive inspections should occur "at intervals not to exceed 50 hours TIS."
If cracks are found, carry-through spars must be replaced before further flight, the AD says.
Although the AD was issued directly as a final rule, the FAA has invited public comments by a submission deadline of March 30. Comments may be submitted online at http://www.regulations.gov or by mail to: U.S. Department of Transportation, Docket Operations, M-30, West Building Ground Floor, Room W12-140, 1200 New Jersey Avenue SE, Washington, DC 20590. Include docket number FAA-2018-0068 and Product Identifier 2017-CE049-AD at the beginning of your comments.
Article provided courtesy of Aircraft Owners and Pilots Association – www.AOPA.org