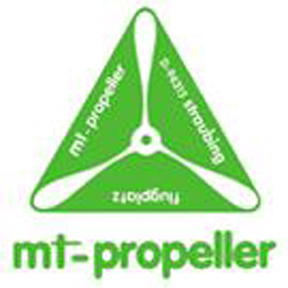 Flight Resource, the largest volume distributors of MT Composite propellers, announced at EAA AIRVENTURE the soon to be available new design speed/climb prop, nick named "The Ultra." The 80-inch diameter, two-blade, scimitar-shaped composite propeller system with Kevlar spinner weighs only 42 pounds (as compared to 46 for the Hartzell Trailblazer).
The life-unlimited, repairable composite blades are protected with tough nickel-cobalt leading edges that provide 60% more protection as compared to those of the Hartzell. In addition, the MT does not have the mandatory service bulletin requiring blade and hub replacement in the event of minor blade damage (foam core exposure) as does the Hartzell.
Larry Schlasinger, Technical Specialist for Flight Resource stated, "I was extremely pleased to see that our propeller development proved to be a resounding success. The flight test with the MT vs. the Trailblazer, performed on the same plane, same day and same conditions, clearly showed the superiority of the MT as compared to the Trailblazer".
Calibrated flight tests on the Aviat Husky test plane indicated the Ultra was 4% faster in cruise (5mph) and 9% improved in climb as compared to the two-blade composite Hartzell Trailblazer.
Additionally, the new prop is quieter, smoother and utilizes a new paint process that virtually eliminates paint erosion. Just like all MT Husky props, this one also is able to be operated with no 'restricted RPM' ranges on all engines.
Pricing is actually less than the two-blade 83" wide chord prop that has been the performance benchmark for many years.
Current Flight Resource STC's are being amended to include this propeller for all Aviat Huskies, American Champion Scouts and Cessna 170,172 and 175 that are powered by the Lycoming -360/390 series engines.
About Flight Resource, LLC – Flight Resource, LLC© is the world's largest distributor of the German engineered composite MT-Propeller and holder of several MT Propeller upgrade STC's.  Installation kits for hundreds of makes and models of singles, twins and turbine powered aircraft are supported from the Cessna 170 up to the Jetstream 41. For more information about Flight-Resource and current list of model STCs, please visit www.Flight-Resource.com.
About Mt-Propeller, GmbH – MT Propellers are designed and built in Straubing Germany. With over 50,000 composite blades in operation; 32 years of development and production and more than 110 million flying hours without a single in-flight hazardous failure. And there is no active AD on any MT-propeller. MT-Propellers are also approved on Part 135 and Part 25 commercial airplanes like the BAE Jetstream 41 fulfilling the highest certification requirements. The high technology natural composite blades have no life limitation and can be repaired even in case of a FOD. Service is provided by over 30 MT certified prop shops around the country. For more information about MT-Propellers please see www.MT-Propeller.com.
Save