The second-ever member dinner at Oshkosh AirVenture 2022 was the place where we announced our first-ever member awards. It was a long overdue idea that was the brainchild of COO Aviation Director Scott Sherer. The event took place at LaSure's Banquet Hall on the opening Monday night of the show and hosted 150 guests.
We thanked five people total with "Gold Star Awards" and gave them a plaque of recognition. Three were members who have been very active in helping other members on the forum. Carl Ziegler is a longtime A&P who has gone above and beyond in giving people detailed answers to their problems. Kevin Horrell has created some long and detailed posts and is working with me on some stories that will help even more.
Scott Sellers is the newest member of the team and brought us Paul New's webinar. He's writing articles for us and has more events planned and also received a Gold Star Award.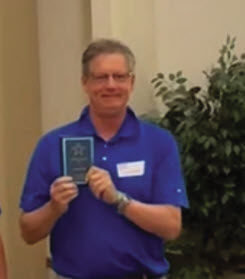 We also gave awards to our two core support people, A&P/IA Erich Rempert and Sherer. Rempert has been helping our members for years and is on a roll with great advice this year in particular. His Q&A responses make the magazine, and sometimes they fill two to three pages. Sherer is the person who is on the front lines of email replies and forum support. We couldn't do any of this without him.
Finally, we gave Bob Hart the Contributor of the Year Award. Hart, who runs avionixhelp.com and is an avionics consultant, has been writing our avionics articles for years and the past year's columns were even greater than usual. He continues to help people affordably manage their panels.
Thank you to the 150 people who made the dinner, and congratulations and thank you to our first award winners.