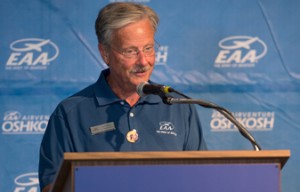 Precourt elected Vice Chairman of EAA Board
EAA AVIATION CENTER, OSHKOSH, WI — November 9, 2015 — The Experimental Aircraft Association (EAA) Board of Directors has named EAA Chairman Jack Pelton as Chief Executive Officer, adding the CEO title and responsibilities to the position Pelton has held with the organization since October 2012.
The action was taken during EAA's annual fall board meeting in Oshkosh on November 6. In addition to this move, the EAA Board also elected Charlie Precourt as Vice Chairman of the Board.
"Jack has done a marvelous job as Chairman and association leader on a volunteer basis after stepping into a challenging position three years ago," said Dan Schwinn, Chairman of the EAA Board's Human Resources and Governance Committee. "As his inaugural three-year term as Chairman was ending and we were searching for a CEO for the organization, we realized that the qualities we were seeking in a CEO were exactly the qualities and background that Jack possesses. He has a passion for EAA and a long background in recreational aviation, plus successful experience in business and government relations. We approached Jack with the idea and were very pleased when he and his wife, Rose, accepted our offer."
The EAA CEO position will be a paid position, although Pelton will continue as EAA's volunteer Chairman of the Board while he is CEO. He will maintain residences in Oshkosh and his hometown of Wichita, Kansas.
"I was flattered when the board approached me with this offer, not out of a professional desire but as a person who believes deeply in EAA's mission, organization, and members," Pelton said. "Aviation and EAA have been irreplaceable parts of my life. Our organization – its mission, members, and volunteers – creates a community unmatched anywhere in aviation. I'm eager to see all of us work together to see EAA grow and thrive."
Pelton has an extensive, renowned career in aviation, including as Chairman, President, and Chief Executive Officer of Cessna Aircraft. He also worked with Douglas Aircraft and Dornier Aircraft, and was an acknowledged leader in the aviation community through his work with the General Aviation Manufacturers Association, the National Business Aviation Association, and the National Air and Space Museum. Pelton's EAA history also has deep roots, as he was introduced to the organization when attending EAA Chapter 1 meetings in Riverside, California, as a teenager with his father. He continues his passion for recreational aviation today, restoring, maintaining, and flying several vintage aircraft.
Precourt was elected as the EAA Board's Vice Chairman, a newly created position that will provide additional independent leadership for the Board and provide a central point of Board contact for Pelton as CEO. Precourt is Vice President and General Manager of Orbital ATK's Propulsion Systems Division, a four-time space shuttle mission astronaut (including two as Commander), and former U.S. Air Force pilot. He is also an experienced aircraft builder who leads EAA's safety committee that is spearheading research and activities to continue enhancing aviation safety, and he writes a monthly column for EAA's flagship Sport Aviation magazine.
About EAA – EAA embodies the spirit of aviation through the world's most engaged community of aviation enthusiasts. EAA's 190,000 members and nearly 1,000 local chapters enjoy the fun and camaraderie of sharing their passion for flying, building and restoring recreational aircraft. For more information on EAA and its programs, call 800-JOIN-EAA (800-564-6322) or go to www.EAA.org. For continual news updates, connect with www.twitter.com/EAA.