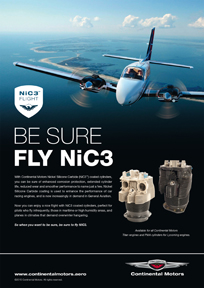 On November 2, 2015, Continental Motors Group Ltd. (CMG), an AVIC International Holding Corporation company, announced that their whole range of cylinders for Continental, Titan and Lycoming engines is now available with an optional NiC3™ coating. Cylinders coated with this process resist internal corrosion and benefit from increased hardness and internal wear resistance.
"We are excited to add this enhancement across our entire range of cylinder products" said Emmanuel Davidson, Head of Global Marketing, Continental Motors Group. "We believe this new option will benefit those who do not get to use their aircraft as often as they would like or those that live or fly near the ocean. These premium cylinders are available from today under the NiC3™ name."
When used infrequently, piston engines are more prone to internal corrosion than engines that are flown on a regular basis since the oil layer left following operation will slowly fade away with lack of operation.  Further, since aviation piston engines are vented, moisture can enter the engine, especially as a result of the natural daily variation in temperature. The Nickel+Carbide™ coating creates a barrier inside the cylinder that protects the cylinder from corrosion while hardening the cylinder wall leading to improved wear performance.
Continental Motors, from today, is offering this option on its full range of factory cylinders that are used on Continental Motors, Titan Experimental and ASTM certified engines and PMA cylinders for Lycoming engines. These cylinders are backed by an additional warranty extension covering the new cylinder barrels for abnormal internal wear and/or corrosion for 5 years.
The NiC3™ process is proven technology. Many automotive and commercial engine manufacturers use this coating for top of the range vehicles or racing applications" said Jurgen Schwarz, Vice President of Engineering. "These engines are used in extreme conditions and have demonstrated repeatedly the value of this coating, which we believe is a great option for low use aircraft or those near the water," He added.
Continental Motors continues to innovate and bring more value to the owner and the pilot community than any other engine manufacturer."
AVIC International Holding Corporation was set up in 1979, with majority shares owned by Aviation Industries of China (AVIC). Headquartered in Beijing, the whole assets of AVIC International are up to 250 billion RMB. The company has over 80,000 employees across 400 subsidiaries and is located in over 50 countries, has 8 list companies. AVIC International is a well-diversified company, with holdings in International Civil Aviation, Trade & Logistics, Retail & High-end Consumables, Real Estate and Hotel Management, Electronics Manufacturing, and Natural Resource Development. More information can be found at www.avic-intl.cn.
Continental Motors Group, Ltd. of Hong Kong, China is a subsidiary of AVIC International Holding Corporation of Beijing, China. Its mission is to provide advanced gasoline and Jet-A piston engine products, spare parts, engine and aircraft services, avionics equipment and repairs as well as pilot training for the general aviation marketplace. Continental is an international operation employing approximately 570 team members in Mobile, Fairhope and San Antonio, USA; 200 team members in St. Egidien, Germany; and 8 team members in Beijing, China. More information can be found at www.continentalmotors.aero.