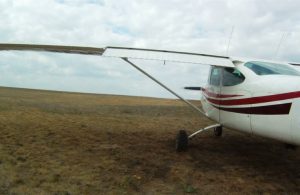 General aviation pilots can now prepare to fly under BasicMed without holding a Federal Aviation Administration (FAA) medical certificate as long as they meet certain requirements. They can fly under BasicMed beginning on May 1, the effective date of the January 10 final rule. It offers pilots an alternative to the FAA's medical qualification process for third class medical certificates, while keeping general aviation pilots safe and flying affordable.
General aviation pilots may take advantage of the regulatory relief in the BasicMed rule or opt to continue to use their FAA medical certificate. Under BasicMed, a pilot will be required to complete a medical education course every two years, undergo a medical examination every four years, and comply with aircraft and operating restrictions. For example, pilots using BasicMed cannot operate an aircraft with more than six people onboard and the aircraft must not weigh more than 6,000 pounds.
A pilot flying under the BasicMed rule must:
possess a valid driver's license;
consent to a National Driver Register check;
have held a medical certificate that was valid at any time after July 15, 2006;
have not had the most recently held medical certificate revoked, suspended, or withdrawn;
have not had the most recent application for airman medical certification completed and denied;
have taken a BasicMed online medical education course within the past 24 calendar months;
have completed a comprehensive medical examination with any state-licensed physician within the past 48 months;
have been found eligible for special issuance of a medical certificate for certain specified mental health, neurological, or cardiovascular conditions, when applicable; and
not fly for compensation or hire.
AOPA BasicMed Course & FAA Medical Exam Checklist Now Available

The FAA has released the official BasicMed Comprehensive Medical Examination Checklist that pilots must fill out and have completed by a state-licensed physician. It has also published a link to the free online AOPA Self-Assesment Course that satisfies the requirement for pilots to complete a medical education course prior to operating under BasicMed.
"We fought long and hard for this on behalf of our members and we're excited that pilots can now start the BasicMed process," said AOPA President Mark Baker. "You're now cleared to take the necessary steps to get in the air as of May 1."
Pilots may now make their doctor appointment, have the FAA checklist filled out by the physician, and complete the free AOPA online medical course. Pilots must retain the completed exam checklist with their logbook, along with the certificate of completion from the online medical course. Once these requirements are met, pilots just have to wait until May 1 to exercise the privileges of BasicMed.
AOPA anticipates that BasicMed will affect hundreds of thousands of pilots and bring back many who have stopped flying for fear of losing their medical certificate or because of the cost and stress associated with seeking a special issuance medical each year. To help those who have been away from flying, AOPA has created a Rusty Pilots program to make it easier to get back into the cockpit.
"If you've been away from flying for a while, don't worry," Baker encouraged pilots. "AOPA's Rusty Pilots seminars will help you knock off the rust and boost your confidence so that you will be ready to act as pilot in command again."
AOPA is partnering with flight schools to offer Rusty Pilots seminars in hundreds of locations across the United States. By attending the three-hour seminar, you will receive an instructor's endorsement that meets the minimum requirement for the ground portion of a flight review, and you will get the opportunity to meet local flight instructors so that you can schedule a lesson to complete the ground and flight portion of a review. (Rusty Pilots seminars are free to all AOPA members!) Nearly 3,600 pilots have returned to active flying status through Rusty Pilots.
"We have worked tirelessly with Congress and the FAA to achieve medical reform," Baker said. "Check out our suite of online Fit to Fly resources to let us help you settle into the left seat." Read AOPA's story.
About AOPA – Since 1939, AOPA has protected the freedom to fly by creating an environment that gives people of all ages the opportunity to enjoy aviation and all it has to offer. As the world's largest community of pilots and aviation enthusiasts with representatives based in Frederick, Md., Washington, D.C., Wichita, Kans., and seven regions across the United States, AOPA's events, initiatives, and services bring current and future pilots together and make aviation more accessible to everyone. To learn more, visit www.aopa.org.
Save
Save
Save