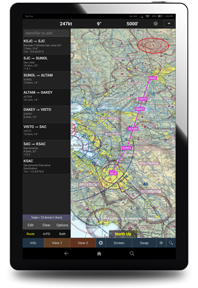 Hilton Software LLC, a leader in advanced mobile aviation technology and a United States Department of Defense contractor, announced WingX Pro7 for Fire.
Hilton Software is known for its innovation and first-to-market integration of new features. WingX Pro7 for iOS was the first major EFB application to add split-screen, terrain overlays, track-up, ADS-B weather and traffic, AHRS-driven Synthetic Vision, a watch app, Instrument Approach Chart Routing, and the amazing patent-pending traca™ Route Planning Technology.
Earlier this year we launched WingX Pro7 for Android and now we're proud to announce WingX Pro7 for Fire.
WingX Pro7 for Fire's moving map includes VFR Sectionals, IFR High and Low Enroutes, planned routes, weather, TFRs, Special Use Airspace overlays, and a comprehensive A/FD. WingX Pro7 for Fire also includes integration with Lockheed Martin's innovative Flight Services system, Geo-Referenced Approach Charts, and compatibility with popular external GPS receivers. WingX Pro7's unified subscription system allows pilots to run WingX Pro7 on iOS, Android, and Amazon Kindle Fire devices using a single account potentially saving pilots hundreds of dollars each year.
Dr. Goldstein, CEO of Hilton Software, said: "While some companies are stuck in the past on a single platform and/or with proprietary hardware, Hilton Software has been a multi-platform and hardware-independent company since its inception and is actively leading the way forward with incredible innovation. WingX Pro7 provides pilots with the most choices and now runs on Amazon Kindle Fire tablets – some selling for less than $50. Our Engineering Team has successfully maintained WingX Pro7's easy-to-use look-and-feel across the Apple iPhone and iPad, Android phones and tablets, and Amazon Kindle Fire devices. Hilton Software remains the only major EFB company that believes in open standards and that has solutions for the iOS, Android, and Fire markets. The capabilities, device options, and price points of Android and Kindle Fire tablets represent significant value-for-money options – we're making flying a lot more affordable."
WingX Pro7 for Fire is planned to be available in October 2015 through the Amazon Appstore. Hilton Software will be demonstrating WingX Pro7 for Fire at FLYING Aviation Expo 2015 in Palm Springs, CA.
For more information, please call 954-859-4632 or visit www.hiltonsoftware.com.